Hundreds of children 'detained' at British airports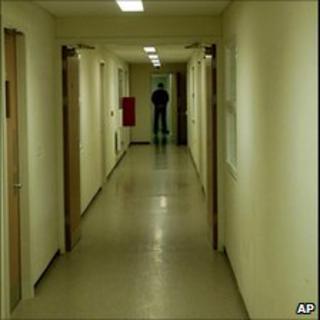 Hundreds of children are being detained at ports and airports by the UK Border Agency, the BBC has learned.
Figures released under the Freedom of Information Act show 697 under 18s were detained between May and August at the Port of Dover and at airports including Heathrow, Gatwick and Stansted.
The Children's Society, which obtained the data, said it was "horrified" and called the numbers "excessive".
The Home Office said children were detained for no more than 24 hours.
This was while immigration checks were carried out, it said.
The documents, seen by the BBC, show that of those detained, more than a quarter were travelling alone.
The BBC's home affairs correspondent Danny Shaw says the findings suggest several thousand children have been detained across the UK.
The Children's Society said it was disappointed that children were still being detained both at the ports and at Cedars, the UK Border Agency's new pre-departure accommodation for families near Gatwick Airport.
Government pledges
In July of last year, the government said it would end detention for the children of failed asylum seekers by May of this year.
And Deputy Prime Minister Nick Clegg also announced that children would no longer be held at Yarl's Wood immigration detention centre in Bedfordshire, which is the main removal centre holding families who are facing deportation.
Bob Reitemeier, chief executive of the Children's Society, said: "We are horrified at the excessive numbers of children being held in the South East and very disappointed that government has not kept these numbers to a minimum.
"Clearly the United Kingdom Border Agency is detaining more than just 'a few dozen' families.
"We're also concerned that detailed information isn't being monitored centrally by the Home Office, including why they are being held, their age and critically the length of time that they were held.
"We are calling on the Home Office to launch an enquiry in to why excessive numbers of children are being held on the entry to the UK when this was clearly not intended to be the case."
The Chief Inspector of Prisons, Nick Hardwick, has expressed concerns about the practice.
The Independent Monitoring Board recently described some detention facilities at Heathrow as "degrading".
A UK Border Agency spokesman said: "We have always been clear that we would retain the ability to hold families who have arrived at the border without the right to enter the UK.
"Where it is considered in the family's best interests not to stay at the airport until the next flight, the UK Border Agency will make arrangements for them to stay at Tinsley House."
The Home Office added that the family unit at Tinsley House, which is at Gatwick airport, is used for families intercepted at the border and, "in rare cases, for criminal and other high risk families who cannot be safely accommodated in new pre-departure accommodation".