PC denies killing Ian Tomlinson at G20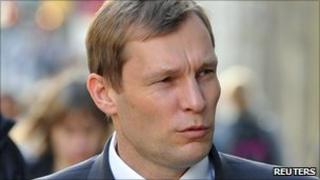 Police officer PC Simon Harwood has denied killing newspaper seller Ian Tomlinson during the G20 protests in London in 2009.
The Scotland Yard officer appeared at Southwark Crown Court, charged with manslaughter.
Mr Tomlinson, 47, collapsed and died after being hit by a baton and pushed to the ground on 1 April 2009.
An inquest jury previously found Mr Tomlinson had been unlawfully killed.
A trial date for PC Harwood, 44, of Carshalton, south London, has been set for 13 June 2012.
Mr Tomlinson's wife Julia and his stepson Paul King were in court for the 20-minute hearing.
When the charge that he unlawfully killed Mr Tomlinson was read to him, PC Harwood, standing in the dock, said: "My Lord, not guilty."