Newspaper review: Health issues feature prominently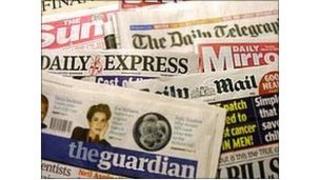 Health issues are prominent, with the Daily Mail and Independent leading on the NHS ombudsman's report of patients struck off by GPs for complaining.
Meanwhile, the Guardian reports a "toll of cuts across NHS services", including birth centre closures, patients denied pain-relieving drugs and fewer district nurse visits.
Savings are "cutting in to the bones of the NHS", the paper suggests.
This casts doubt over government pledges to protect front-line services.
Cool response
The meeting between the prime minister, energy secretary and the six big power companies fails to impress.
The Daily Mail speaks of a "somewhat unconvincing display of righteous anger" by the government.
A Daily Telegraph cartoon depicts David Cameron as he "turns up the heat" on the power companies - only setting the stove to gas mark one.
The Daily Mirror calls for tighter regulation to "get a firm grip" on firms enjoying "indefensible profits".
Parliamentary privileges
An unimpressed Daily Express offers "a word of warning" for MPs, who are to get an extra break next month following recalls to Parliament in the summer.
The paper also addresses MPs apparently "obsessed with protecting their very cushy parliamentary pension scheme".
"Do not dare tell us that we are all in it together," the Express says.
The Daily Telegraph leads on National Trust claims of a campaign by property developers, with a "huge lobbying war chest", to get planning laws changed.
Banger to rights
The Telegraph has the story of Sussex Police's zero tolerance approach to corruption in the force.
A detective has been reprimanded for accepting - and eating - a chorizo sausage from a member of the public.
The Daily Mail reproduces a handwritten letter found folded up inside a book bought at a car-boot sale.
The reply to a drummer who had advertised in the Liverpool Echo, in 1960, is signed: "Yours sincerely, Paul McCartney of the Beatles."