England riots: Search for answers over August mayhem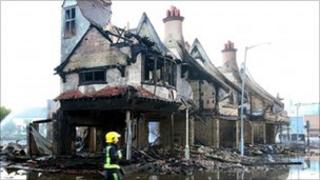 "It was a night of madness. We can't rationalise what happened, we will never really understand," one resident said.
But in the grand civic surroundings of Croydon's Braithwaite Hall on Tuesday night, residents, business owners and councillors attempted to do just that - make sense of the mayhem that descended on the area in August.
Hooded mobs swamped the south London suburb on a third night of rioting in the capital, looting shops and leaving a 150-year-old furniture store, Reeves, a burnt-out shell.
Now it is the task of the Riots Communities and Victims Panel to establish exactly what happened in England during the summer and, perhaps most importantly, what can be done to stop it happening again.
So far, the politically independent panel has visited eight London boroughs, plus Salford and Wolverhampton, meeting victims of the rioting and looting. They also plan to speak to rioters themselves.
'So frightened'
Ealing, in London, hosted the first public meeting on Monday with further events planned for riot-hit areas in the coming weeks.
The four-person panel, appointed by Deputy Prime Minister Nick Clegg, is chaired by the former head of Ealing council, Darra Singh.
He is joined by Maeve Sherlock, who has headed the National Council for One Parent Families and the Refugee Council, former council leader Heather Rabbatts, and Tottenham youth leader Simon Marcus.
In Croydon, as audience members took the microphone in turns, they expressed horror at events in a place where many had lived their entire lives.
"I have never in my life felt so frightened, particularly in my own home, looking out of the window and seeing smoke rising," one resident of London Road recalled.
He described how his family watched the scenes just yards from their home: "An otherwise strong family was in tears watching it unfold. We saw neighbours packing their car ready to escape."
Joanne Thibeault, 33, who works for Reeves furniture store, said she was at home with her two-year-old son on the evening of the riots and spent the time screaming at the TV.
"There's been lots of emotion - shock, then anger. My heart goes out to the people who lost their homes. I think about these people a lot, 90 families were displaced by the carnage," she said.
Reeves continues to operate in its neighbouring store, she explained. Customers have been travelling from far and wide and 650 emails of support have been received.
Police tactics
The meeting heard frequent criticism of police numbers, with it stated more than once that just 1,000 of Croydon's 7,000 officers were on duty, with 40 sent to help other areas.
"If they thought there was a risk of trouble they had to get police out on the streets," one man said, recounting how shops had been warned to close early that day.
Two of the more candid members of the audience admitted they may have been tempted to join the looters.
One middle-aged woman told how a few weeks after the riots she had asked a group of people whether they would have taken anything if they had passed a TV shop with its door open.
"A lot of people said, 'Yes, why not?' because it was possible to get something for nothing and no-one was going to stop you and no-one was going to find out," she said.
The Metropolitan Police is holding its own inquiry on the tactics used during the riots, and has admitted there are "huge lessons to learn".
Some members of the audience asked whether police needed greater powers to disperse groups of youths or impose curfews, while others stated that the unrest was due to consumerism or a lack of proper parenting.
Others pointed to the role of social media and good transport links to the area, suggesting people from other areas converged on Croydon.
Contributions urged
One youth worker said cuts to youth clubs by the council had left children with nothing to do in the long summer holidays.
"It was excitement for them as they had been hanging around on roads doing nothing for three or four weeks, it was a little bit of action," he explained.
But some said the riots were the result of pure opportunism.
"I saw people coming out of Tesco with bottles of Coke, out of Co-op with packets of crisps. It was looting for looting's sake," one person said.
"A lot of people laughing, detached from society, unaware of what they were doing."
Darra Singh urged people to continue sharing their views.
"We were all shocked by what happened. Lots of people had their livelihoods ripped from under their feet, a large number of people lost their homes, people were fearing for their lives in some parts of the city.
"People have got worries, have got ideas, they want to bring to attention - we would really encourage them to attend one of the meetings or email us through the website."
He countered criticism of a low turnout for the meeting of about 50 people, saying the panel had already met many affected groups in the area before the public meeting.
It may be questioned how this disparate opinion will become a coherent story for government, and translate into policy.
Mrs Thibeault said you had to hope for that, because she wanted one day to be able to explain what had happened to her son.
"Hopefully this review can come up with some answers. That image of Croydon will stay in people's minds forever," she said.
After collecting evidence from some 25 areas, including some which were unaffected, the panel will report its initial findings in November, followed by its full report in March.