Newspaper review: Concerns about rise in annual inflation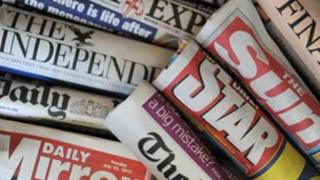 Wednesday's newspapers raise concerns about the impact of a rise in the inflation rate on the economy and family budgets.
The Daily Telegraph says the figures - 5.2% for the Consumer Prices Index and 5.6% for the Retail Prices Index - are "shockingly bad".
For the Daily Mail, inflation is a corrupter of the currency and an enemy of the prudent.
But the Daily Express says pensioners win - because the state pension is calculated on September's CPI figure.
Benefit rises questioned
The same measure is used to calculate benefit rises, and a number of papers say an increase of 5.2% in welfare payments would not be fair on workers.
The Telegraph says it would be perverse if benefit recipients were to be better protected than wage earners.
The Mail asks how such a rise could be justified.
But the Daily Mirror warns that any change in the rules would penalise low and middle earners who qualify for Income Support.
Release for peace?
Hamas's release of Israeli soldier Gilad Shalit in exchange for more than 1,000 Palestinian prisoners in Israeli jails gets extensive coverage.
The Mirror hopes celebrations will not give way to new hostilities.
The Independent says prisoner release can be an important part of a peace process, as seen in Northern Ireland.
But the Financial Times says instead of being a good omen, the exchange is the result of pressures on both sides that have left them needing good publicity.
Three-line whip
The Mail and Express are unhappy at reports the Conservative leadership is to order its MPs to vote against having a referendum on EU membership.
The Telegraph says imposing a three-line whip will test David Cameron's authority over his party.
The Express thinks it is shortsighted to impose a whip because it may provoke more of them into backing a referendum.
The Mail says David Cameron is desperate to avoid a revolt on Europe but faces mutiny among his MPs.