UK Afghan effort 'on track', top military officer says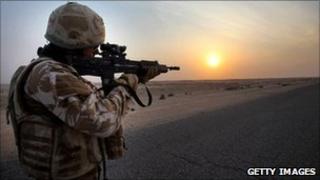 The British campaign in Afghanistan is "on track" to achieve its aims by 2014, the former top military officer in the country has said.
Brigadier Ed Davis, commander of 3 Commando Brigade, which has just returned from a six month tour of Helmand, said the area had seen a 45% reduction in insurgent attacks.
In some areas, there was an 86% drop compared to the same period last year.
Brig Davis also said 7.5 tonnes of explosives had been seized.
That was the equivalent of "eight months' worth" of improvised explosive devices, he said.
Brig Davis, who commanded Task Force Helmand, added that UK forces operating in Helmand had killed 18 and captured 19 mid- to low-level Taliban commanders over the past six months.
Talking about the British operation in Afghanistan, he said: "The campaign is on track, and the end sight of being able to hand over control of Helmand to an effective, trusted and sustainable Afghan National Security Force (ANSF) is deliverable.
"I think we have maintained the momentum and progress towards that.
"I think we did maintain momentum across that summer and the transition is on track of achieving our end sight by 2014."
Prime Minister David Cameron has set a deadline of 2014 for the withdrawal of all British fighting troops.
The number of British forces personnel killed while serving in Afghanistan since the start of operations in October 2001 now stands at 383.
The comments come soon after Rifleman Vijay Rai, from the 2nd Battalion, The Royal Gurkha Rifles, was killed on Saturday in Nahr-e-Saraj.