Alleged sex offender arrested in Spain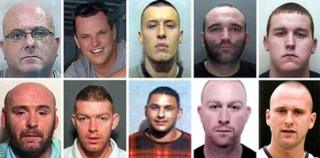 A man wanted over alleged sex offences has been arrested in Spain following a Crimestoppers campaign.
Dominic Stephen Powell, 48, from Coventry was arrested in the town of Mijas on Thursday by Spanish police following a tip off.
Mr Powell, who fled in 2009, is wanted in connection with a serious sex assault on a child in South Wales.
He is one of ten fugitives named in the campaign which is targeting UK crime suspects abroad.
Other people named include Liverpool murder suspect Kevin Parle, 31, who is wanted over the killings of Liam Kelly, 16, in 2004, and Lucy Hargreaves a year later.
Of 60 wanted people named by Operation Captura in the last five years, 46 have since been taken into custody.
The other eight suspects named are:
Simon Dutton, 34, from Bolton, wanted in connection with the importation of cocaine with a street value of £1.6m from Spain to north west England.
Andrew Terrence Moran, 29, from Salford. He was convicted in his absence after fleeing court during a trial for a £25,000 armed robbery of Royal Mail guards in Colne, Lancs.
Kirk Bradley, 26, and Tony Downes, 25, both from Liverpool, who escaped a prison van in Manchester while being taken to trial for conspiracy to possess firearms and to endanger life.
Derek McGraw Ferguson - alias William Murdoch Henderson - 47, from Glasgow, wanted for the murder of Thomas Cameron in 2007 in a pub. His distinguishing marks include tattoos of an arrow and dagger and a chunk missing from left ear.
Allan James Foster - also known as Shaun Michael Wilkinson - 39, from South Shields, Tyneside, wanted in connection with the murder of David "Noddy" Rice in a car park in May 2006, and for drug and diamond theft offences. He has links to the Canary Islands and Majorca.
William "Buff" Thomas Robert Paterson, 32, from Glasgow, wanted on suspicion of murdering Kevin Carroll, who was repeatedly shot in a supermarket car park in Robroyston, Glasgow.
Christopher Guest More, 34, from Cheshire, who is wanted over the gang killing of a man who refused to hand over cash at a remote farmhouse, as well as the attempted murder of a second man and for false imprisonment and assault of others.
Operation Captura, which is coordinated by Crimestoppers and the Serious Organised Crime Agency (Soca), has an impressive 77% success rate - "a return almost unheard of in law enforcement", according to BBC correspondent Ben Ando.
'Hostile environment'
Home Office Minister James Brokenshire MP, in Madrid to help launch the latest campaign, said Captura ensured Spain was no "safe haven" for criminals.
"It's about creating a very hostile environment and giving a very clear presentation to those who think they can evade justice by coming to Spain that they can't and that justice will find them."
Soca deputy head Andy Baker said that several of those who had handed themselves in after being named in the past had told detectives they could not stand the pressure.
He said. "Imagine: you're always looking over your shoulder, wondering if that siren is coming for you, thinking, 'Who can I trust, who can't I trust?'
"You walk into a bar and if someone looks at you twice you're thinking: 'Have they recognised me? Have they seen one of the posters?'."
The success of Captura is largely down to the willingness of expatriates in Spain to provide information by calling Crimestoppers' anonymous phone numbers; 0800 555111 in the UK, and 900 555111 in Spain.
There are an estimated one million Britons living for some or all of the year in Spain; with a further 12 million visiting in the summer.