UBS trader Kweku Adoboli to appear at crown court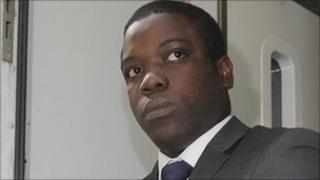 The case of alleged rogue trader Kweku Adoboli has been committed to crown court by City of London magistrates.
Mr Adoboli is accused of unauthorised trading that lost Swiss bank UBS about £1.5bn ($2.3bn). He faces two charges of fraud and two of false accounting.
He will appear before Southwark Crown Court for a plea and case management hearing on 22 November.
Mr Adoboli, 31, worked for UBS's global synthetic equities division, buying and selling exchange traded funds.