Spy case is 'not evidence based'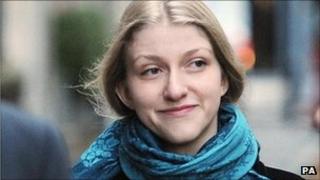 The case against a former MP's aide accused of working as a Russian spy is not based on actual evidence, a witness called by her lawyer has told an immigration appeal in London.
Katia Zatuliveter is accused of starting an affair with Lib Dem MP Mike Hancock because she saw him as politically influential.
She denies spying and is fighting her deportation.
Government lawyers say she should be deported on national security grounds.
Nicholas Fielding, a defence expert on Russia appearing for Miss Zatuliveter, described his opinion of the elements which make up the case at the Special Immigration Appeals Commission.
"It runs the risk of appearing to be like a bunch of drunks walking down the road.
"By adding bits to it, it may seem that it adds strength, but if one thing doesn't add up, you run the risk of making the whole thing collapse," he said.
The hearing also heard from a senior MI5 official, named only as Witness AE, who said he was a manager of agent operations.
From behind a screen, he was cross-examined by Miss Zatuliveter's lawyer Tim Owen QC.
'Just a joke'
The barrister referred to an affair Miss Zatuliveter has admitted having with a European Nato official in his 50s, named as Y, who she began seeing in April 2010, after splitting from Mr Hancock.
Elements of the case against his client, Mr Owen said, included her interest in Nato and a string of affairs with older men in positions of authority.
Reading a witness statement written by Miss Zatuliveter, in which she remembers an email conversation with around 50 to 100 emails, he said: "I recall writing something like 'I have managed to disable the work of half of Nato by distracting Y from his work.
"I can't continue writing because the Kremlin are calling me to congratulate me on my achievements'."
Mr Owen said to Witness AE: "It's just a joke, isn't it?"
He replied: "It's one of the few examples in this case where we have direct references to Nato from her."
Mr Owen said it was, in fact, the "only reference" the secret services had from her about Nato, and said again that it was a joke.
The case will continue behind closed doors until early next week, and it is expected to finish on 28 October.
On Wednesday, Mr Hancock resigned from his post on the defence select committee. He said the MPs should be allowed to work unimpaired by the case but he hoped to rejoin once proceedings were concluded..