Alleged sex offender Dominic Powell arrested in Spain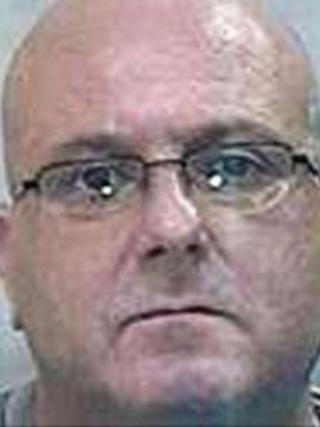 A man wanted for questioning over alleged sex offences has been arrested in Spain after a campaign to target suspected British criminals abroad.
Dominic Stephen Powell, 48, was arrested in Mijas by Spanish police on Thursday, following a tip off.
He is wanted in connection with a serious sex assault on a child in south Wales, and other alleged offences.
He was named as one of 10 wanted British suspects by Crimestoppers' Operation Captura campaign.
Mr Powell, originally from Coventry, is wanted in connection with indecent assaults, offences of sexual activity with a child, attempted rape, making indecent images of children and for failing to comply with police notification requirements.
The wanted list which included Mr Powell was published on Thursday morning.
Importation of cocaine
They include Liverpool murder suspect Kevin Parle, 31, who is wanted over the killings of Liam Kelly, 16, in 2004, and Lucy Hargreaves a year later.
Of 60 wanted people named by Operation Captura in the last five years, 46 have since been taken into custody.
The other eight suspects named are:
Simon Dutton, 34, from Bolton, wanted in connection with the importation of cocaine with a street value of £1.6m from Spain to north west England.
Andrew Terrence Moran, 29, from Salford. He was convicted in his absence after fleeing court during a trial for a £25,000 armed robbery of Royal Mail guards in Colne, Lancs.
Kirk Bradley, 26, and Tony Downes, 25, both from Liverpool, who escaped a prison van in Manchester while being taken to trial for conspiracy to possess firearms and to endanger life.
Derek McGraw Ferguson - alias William Murdoch Henderson - 47, from Glasgow, wanted for the murder of Thomas Cameron in 2007 in a pub. His distinguishing marks include tattoos of an arrow and dagger and a chunk missing from left ear.
Allan James Foster - also known as Shaun Michael Wilkinson - 39, from South Shields, Tyneside, wanted in connection with the murder of David "Noddy" Rice in a car park in May 2006, and for drug and diamond theft offences. He has links to the Canary Islands and Majorca.
William "Buff" Thomas Robert Paterson, 32, from Glasgow, wanted on suspicion of murdering Kevin Carroll, who was repeatedly shot in a supermarket car park in Robroyston, Glasgow.
Christopher Guest More, 34, from Cheshire, who is wanted over the gang killing of a man who refused to hand over cash at a remote farmhouse, as well as the attempted murder of a second man and for false imprisonment and assault of others.
Operation Captura, which is coordinated by Crimestoppers and the Serious Organised Crime Agency (Soca), has a 77% success rate - "a return almost unheard of in law enforcement", according to BBC correspondent Ben Ando.