Newspaper review: The life and death of a dictator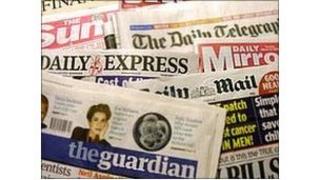 "Death of a dictator." "No mercy for a merciless tyrant." "Murdering rat gets his just deserts." "Mad dog put down."
The bloody demise of Libyan leader Col Gaddafi is conveyed by dramatic headlines and in even more powerful pictures on Friday's UK newspaper front pages.
"He said he'd fight to the death, and for once," the Guardian observes, "he stuck to his word."
"He died as he lived," suggests the Daily Mirror, "shown no mercy as he pleaded for his life."
Prophetic image?
Jubilant Libyans "poured into the streets" at "the start of a new era for the country", says the Financial Times.
But Libya "faces its toughest challenge" now, writes the Mirror's Chris Hughes, "securing the country before it falls to lawlessness, rebellion and anarchy".
The image of Col Gaddafi's half-naked corpse could be "prophetic" for tyrants elsewhere, suggests the Guardian.
The same may await Syria's Bashar Assad or Yemen's Ali Abdullah Saleh - "and they must now know it", the paper says.
Brutal rule
The ruling style of the "Clown with a deadly intent at heart" is analysed by the Daily Telegraph's Charles Spencer.
This style was, he suggests: "Keep people laughing, and they are too busy gawping to do anything about what remains constant in your rule: its brutality."
"For 42 years Colonel Gaddafi terrorised his own people", says the Mirror, "and the world."
The vengeful Sun headline reads: "That's for Lockerbie. And for Yvonne Fletcher. And IRA Semtex victims."
'Sweet moment'
Col Gaddafi's death "may shed new light" on Lockerbie and the murder of Pc Fletcher, with Libya set to open up its files, reports the Daily Express.
"I hope he's in hell with Hitler," says a Lockerbie widow in the Daily Mail.
Analysis in the Times suggests "Tony Blair and Silvio Berlusconi will be among those breathing a sigh of relief" because of their links to Col Gaddafi.
It is an even more "sweet moment" for David Cameron, after "calling Libya right", says the Independent.