Fakenham fall jockey Isabel Tompsett in 'remarkable' recovery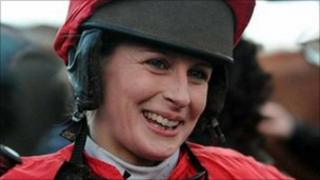 A champion amateur jockey who suffered life-threatening injuries after falling at a racecourse in Norfolk is said to be making a "remarkable" recovery.
Isabel Tompsett, 28, was thrown off her horse at the final meeting of Fakenham races in May.
She is recovering from severe head injuries at Neath Port Talbot Hospital, near her home in south Wales.
The Injured Jockeys Fund said her mobility had improved "considerably" and the rider could now walk unaided.
Lisa Hancock, from the charity, said Ms Tompsett's memory was still "confused" and her eyesight remained a concern, but her overall improvement had been "rapid" and was expected to continue.
She said it was not yet known whether the rider from Llandeilo, Carmarthenshire, would make a full recovery.
Ms Tompsett, a champion amateur over jumps in the 2009 to 2010 season, was initially treated for her injuries at Addenbroke's Hospital in Cambridge, before being transferred to the hospital in Wales in July.
A new racing season starts at Fakenham Racecourse on Friday.