Newspaper review: Morality of Gaddafi's death debated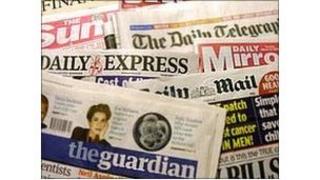 Many of the papers are mulling over the death of Colonel Gaddafi.
A picture in the Daily Express captures the odd contrast between the blood-stained body of the once-mighty ruler and the grinning face of a young man keen to be pictured next to him.
The Daily Mirror thinks Gaddafi's last words were a moral argument with his captors: "what you're doing is wrong, guys. Do you know what is right and wrong?"
But the Sun says: "We don't know who did it. It doesn't matter. Get over it."
'Abject disaster'
The Daily Mail reports David Cameron will tell Europe's leaders they have five days to prevent a meltdown in the financial markets.
Or, as the Sun's headline says, there are "five days to save the world".
The Daily Telegraph thinks "the single currency is close to collapse" and "Europe stands on the brink of abject disaster."
"In front of our eyes, one of the biggest financial and economic storms of the modern age is brewing," it says.
'Peaceful protest'
Concerns about the stability of financial systems are one motive for the protests which have forced St Paul's to close to the public.
The Times tells protesters to "go home". It says they set out to shut the stock exchange, but instead they shut a cathedral.
The Guardian's Zoe Williams, who spent time at the cathedral on Friday, said she did not meet anyone who was against the protest or was inconvenienced by it.
End of the world
If the American preacher Harold Camping had been right, the world would have come to an end on Friday.
The Financial Times reminds its readers that it's not the first time that Mr Camping has got it wrong as he made the same mistake in 1994, and again in May.
The papers says his problem now is "what to do the day after the apocalypse does not arrive".
The Guardian wonders what he might say when he wakes to find God has not lifted all believers into Heaven.