Queen in Australia sees Korea hero again after 60 years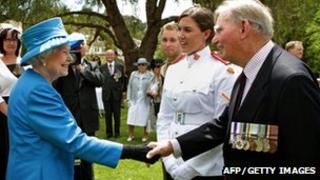 A soldier who was decorated by the Queen for heroism during the Korean War has met her once again, after nearly 60 years.
Arthur Pembroke, 83, met the Queen as she continued her 11-day tour of Australia with a visit to an officer training academy in Canberra.
The ex-officer last met the Queen when he received the Military Cross during a Buckingham Palace ceremony in 1953.
Mr Pembroke said he admired the Queen's "dedication to carry out her duty".
During the visit to the Royal Military College, Duntroon, the Queen presented the institution with new colours.
The monarch chatted to Mr Pembroke during a garden party held following the ceremony.
"She impressed me a great deal - and has right from the time I [first] met her," he said.
"Her dedication and loyalty and determination to carry out her duty as she sees it, I think it is the sort of thing we have always admired."
Mortar fire
The former officer from Sydney earned the gallantry honour 58 years ago as a lieutenant platoon commander attached to the 3rd Battalion, Royal Australian Regiment.
He led his men through six days and nights of fighting, capturing a piece of high ground and holding it for 48 hours against a fierce Chinese counter attack and heavy artillery and mortar fire.
Mr Pembroke, known as Bushy, joked he earned the nickname after growing a large moustache during the Korean conflict.
His 26-year-old granddaughter Harriet Pembroke, who graduates in December from Duntroon - where her grandfather also trained - took part in the parade.
On Friday, the Queen made her only public speech of the tour at Parliament House, Canberra, during which she paid tribute to the courage shown by people during a "difficult year" of heavy flooding in Australian towns and a devastating earthquake in New Zealand.
She was earlier welcomed by Welsh-born prime minister Julia Gillard as a "beloved and respected friend".
The monarch, who is on her 16th visit to Australia, will meet those affected by the floods in the Queensland capital of Brisbane next week.