Funeral payment scheme 'outdated' say councils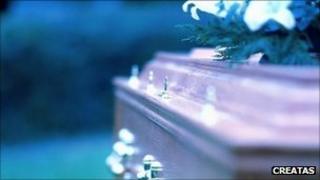 Councils in England and Wales paid for more burials last year as financially-pressed families failed to understand what government help they could receive, a survey says.
Of 159 councils who responded to the survey, 52% reported a rise over the past three years of people claiming to be unable to pay for a funeral.
Councils paid for 3,000 last year.
The Local Government Association blamed the "outdated and confusing" 25-page grant application for funeral costs.
Slow payment
The Funeral Payment, last updated in 2003, covers cremation or burial costs and up to £700 for other expenses, such as funeral director costs.
"In many cases this is no longer enough and families often then find themselves with little alternative than to approach their council for a 'public health funeral'," the LGA said.
In the survey, the councils said a "major problem" was the application form for the payment and the slow processing of it.
"Families often can't get the money through quick enough to pay up front deposits to funeral directors which would then allow the process to begin," it said.
The LGA wants the government to update and streamline the Funeral Payment "as soon as possible so families can take control of laying their loved ones to rest and councils, already managing deep budget cuts from Whitehall, can direct as much money as possible to maintaining front line services."
According to the Department of Work and Pensions, in 2008/09 only 41,000 of the 69,000 claims for Funeral Payments were successful.
This has largely been put down to applicants being confused about who can apply, what the payment will cover and how long it will take to be processed.
The estimated total cost to councils was £2,110,000 in the last financial year, with an average cost per council of £3,900, and the average cost per single funeral being £950, LGA said.
'Extra stress'
Under the Public Health (Control of Disease) Act 1984, when someone dies outside of a hospital and there is no next of kin or anyone else willing to pay, councils must make the necessary arrangements for a public health funeral.
Councils are entitled to recover expenses from any estate left by the deceased in the form of a civil debt.
While many public health funerals are for homeless people who died alone, or pensioners without family, others are for "well loved" people, said David Rogers, chairman of the LGA's Community Wellbeing Board.
"Their family have fallen on hard times and are struggling financially. The last thing a grieving relative needs is extra stress over whether they're going to be able to pay for and organise the funeral of their loved one.
"There is a specific grant available to alleviate that situation, but it's so outdated, complex and confusing that if often prevents people getting the support they're entitled to.
"Now, more than ever as people everywhere are having to tighten their belts, this needs to be addressed so grieving relatives who are entitled to financial help can receive it with the minimum of heartache."
Readers' stories
BBC News website readers have written in with their own experiences. Keith Wootton, in Stoke-on-Trent, said he had problems with getting a grant for his mother, upon her death five years ago.
"I applied for a funeral grant as she had less than £300 in the bank and I am on benefits and have no family for support.
"I was turned down for the grant so I appealed only to be turned down again, all due to the fact she had between £200 and £300 in the bank with no other assets.
"To pay for the funeral I make monthly payments which will be spread over a 20 year period. At the time I had no assistance from either the government or council authorities regarding help or aid."
Stephen Mattinson, from Steyning, said he did not have to apply for a state grant when his father died - saying that help turned out to be available from his father's pension scheme.
"My father worked for a public utility company and received an occupational pension. When he died 10 years ago I got out the paperwork for his pension in order to stop the payments and was amazed to find that a funeral expenses grant of £1,000 was due.
"I rang the administrators and within a few days that amount had been paid directly to the funeral directors. This seemed very generous and I can hardly believe that such a thing would exist today.
"Funerals are very expensive, so this helped, but it was easy for us. If you had to fill in lots of forms and it was a lengthy process I can imagine it would be very stressful."