Sunshine and solidarity for City of London protesters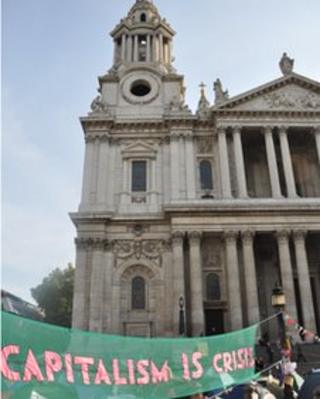 "Another journalist," sighs the young man behind the desk in the white information tent, pitched among the encampment outside St Paul's Cathedral.
His expression at my introduction is a measure of just how much attention the demonstrators from the Occupy London Stock Exchange (OccupyLSX) movement are commanding. Over my shoulder is a journalist from the Guardian, awaiting his turn.
The chap on desk duty is Sean, an 18-year-old who declines to give his full name or have his picture taken.
He is red-eyed and slightly dishevelled, and the aroma in the tent, filled with bodies that have been camping here since the tents sprung up eight days ago, is fruity.
But Sean is polite and helpful, explaining that, as far as the demonstrators are concerned, the cathedral did not need to close, as it has done now for the first time since World War II as a result, it says, of the encampment on its doorstep.
"We've been in touch with both the Health and Safety Executive for the Corporation of London, and the London Fire Brigade, and neither say they have any concerns," he says.
"The sentiment among us seems to be that they have closed for reasons other than what they have told us. We're slightly mystified by it. We haven't blocked the entrance and there's no reason for them to close."
Dean Knowles, of the cathedral, has previously said it had to close because of a "clear fire hazard" presented by the camp's cooking and fuel supply, and spoke of a "legal obligation to keep visitors safe and healthy".
Banners and posters
Outside, the encampment is bathed in gentle Autumn sunlight, bringing to life the patchwork quilt of multi-coloured tents.
Little groups of people sit on the cobbles, holding intense but terribly polite meetings, while a large dog on a long chain snoozes nearby.
On walls and pillars nearby, on the floor and strung up between tents are banners and signs, a visual representation of many of the views of those currently sleeping here.
"Pay for what you've caused," says one, while another has a picture of a tank and the headline "rage against the American war machine".
A long strip stuck to the ground insists that "another world is possible", while the warning "the end is nigh" also makes an appearance.
Around the steps of St Paul's are people, many of them tourists, some sitting reading, others snacking, a couple smoking.
Among them are Livia and Ricardo Espindola, from Natal in Brazil.
Livia, 43, expresses support for the demonstrators, comparing them to some who occupied a space outside a municipal building in her home city.
"I don't think they're causing a problem," she says. "I don't understand why the cathedral had to close. The church and government are together and closing the cathedral is a way of making these protesters look bad.
"I think the priest is worried that they'll enter the church.
"In my city protesters did the same thing, campaigning for things like better healthcare. I support this kind of right to protest."
Nearby, people are standing outside the sealed brown doors of the cathedral, staring at them as if they might suddenly burst open.
'Unrealistic utopia'
Just the other side of the tents, a man named Antonio Stefani is having a robust debate with a handful of demonstrators - one lady telling him that a street cleaner is worth 100 accountants.
She is incredulous when the 33-year-old Italian replies that he cares about the police being funded well enough to maintain law and order.
He tells me that he lives nearby, in a penthouse round the corner, and that while he too supports the demonstrator's right to protest, he thinks that they have "put their point across, and now need to move on".
He added: "It's a disgrace that the cathedral has had to close. People come from all over the world to see one of the city's major landmarks and now they can't go in.
"I've had demonstrators wearing £150 branded glasses and £200 jackets telling me certain taxes, like land taxes, should be increased on the wealthy, meaning they'd have to pay thousands of pounds in cash extra every year.
"These protesters are living in a different world. They're talking about a utopia which is unrealistic and totally unimplementable."
A short walk away, through the City of London's gleaming boulevards of stone, steel and glass, is the new OccupyLSX camp, set up on Saturday.
It is not nearly as big as the original encampment, but just as organised. Bernard Goyder, a 20-year-old student, talks of it being a satellite camp, strategically placed near Deutsche Bank and RBS.
It is a few yards outside the City of London boundaries, technically in the borough of Islington.
Bernard talks of people wanting change, of how he volunteers at a youth centre in Tottenham that has closed down because of budget cuts, and how the public are enduring financial hardships while banker bonuses "have gone up this year".
The camp's organisers said there were 73 tents in the space on Sunday afternoon, holding about 160 people, and that they expected this number to grow.
Society microcosm
Abdulla Saad, a 17-year-old student from Exeter in Devon, travelled to the square for the weekend, as he did the last one, and talks of it being a "microcosm of society", with office workers joining in after finishing their nine-to-five day to mingle with the many students.
"I'm a tree surgeon," one man chips in, overhearing the conversation.
Bernard says that Finsbury Square is going to be a base "for direct action in the City". This, he says, will be "non-violent action against institutions such as banks, hedge funds and credit rating agencies, that we deem responsible for the current situation".
When asked if their protest can really do any good, both Bernard and Abdulla enthusiastically talk about how a small gathering in Tahrir Square ended up bringing about real change in Egypt.
So how long would Bernard and his fellow demonstrators be prepared to camp out for?
"As long as it takes," he replies immediately. As long as Christmas, or beyond? "It's too early to say."
However long they're camped out for, the demonstrators, with their banners and tents, are undoubtedly making a mark on the City. Whether their efforts have any long-term political impact on the numbers crunched in the nation's finance sector is yet to be seen.