Parliament rally over cuts to youth services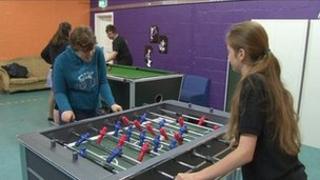 Young people from across the country have gathered in London to protest against cuts to youth services.
The lobby of Parliament has been organised by Choose Youth, a group of youth sector organisations and unions.
It coincides with a report by the Unite union that suggests that the amount councils in England and Wales are spending on youth services is falling.
And the Institute for Fiscal Studies says education spending is falling at its fastest rate since the 1950s.
Unite, the UK's biggest union, said the youth sector was facing some of the biggest budget cuts of any public service.
It said a Freedom of Information (FoI) request by the union showed many councils were losing youth workers and having to close youth centres.
It said the figures, collated from 430 English and Welsh councils, showed that spending on services for young people had dropped by an average of 12.3% in the past year, down from an average of £116 to £102.49 per year. It equates to 28 pence per young person per day.
In particular, young people in Conservative-run rural councils were most likely to find their youth centres closing, it claimed.
Meanwhile, the Institute for Fiscal Studies has said that after a decade of rapid growth in funding schools and universities, the UK was now facing the largest cut in education spending over any four-year period since at least the 1950s.
The independent researchers say spending will fall by 13% in real terms between 2010-11 and 2014-15.
'It is neglect'
Ahead of the event, Unite's general secretary, Len McCluskey, said: "Young people are fed up by being short-changed.
"They are bearing the burden of austerity while this government imposes an absurd plan to replace a high calibre, low cost, professional youth service with an amateur service limping along on handouts.
"This is not governing for the people, it is neglect."
Doug Nicholls, also from the union, said at least 3,000 youth workers of about 7,000 would lose their jobs by the end of this year.
And 20% of youth centres in England and Wales would close this year, he said.
"Many of those (youth centres) were built by a Conservative government in the 1960s when the national debt was five or six times higher than it is now so they are using the debt that we have got today as an excuse to unnecessarily close down the vital services in our communities which, of course, their sons and daughters don't use," Mr Nicholls told BBC Radio 4's Today programme.
He said the August riots had shown that the "devil makes work for idle hands" and it was in communities where there were few youth services that "difficulties had occurred".
He said Tuesday's protest was expecting delegations from all over the country.
"They are coming to meet their MPs and to say enough really is enough, this is absolutely ridiculous. We need a government that is going to be truly positive for youth," he added.
On its website, Choose Youth says: "Youth services have been disproportionately cut and if we are to stop the havoc being wreaked across the country and if we are to save vital services for young people then we must make MPs from all parties listen and speak up for young people and young people's services."
Following the rally at Westminster's Methodist Central Hall young people are expected to gather on College Green to host a silent disco in protest against the cuts.
A spokeswoman for the Department for Education said: "We've made it clear that out of school services for young people can have a significant positive impact on young people's engagement in learning and on their outcomes in later life.
"Local authorities can draw on funding from the Revenue Support Grant and the Early Intervention Grant to meet local needs.
"Local people are best able to target investment where it will have the most impact, the government won't tell them the type or level of services they should fund."
"Nationally, we're spending £141m capital money between this year and 2013 to complete a national network of over 63 myplace centres - providing world class youth facilities in disadvantaged areas."