'Rise' in ethnic minority young offenders in custody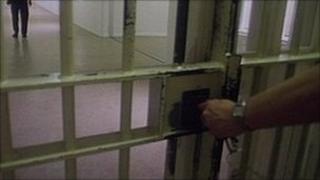 The number of young male offenders from ethnic minorities in custody in England and Wales has risen, a report suggests.
Figures produced jointly by the chief inspector of prisons and the Youth Justice Board showed there were 1,822 young offenders in custody in 2010/11.
Of these, ethnic males formed 39% of those held - up from 33% in 2009/10.
Nick Hardwick, the chief inspector of prisons, says the report also highlights "some deterioration" in young people's experience of custody.
The annual review suggested the overall figure of young offenders held in custody was down from 1,977 in 2009/10.
The inspectors said a "changing profile of the children and young people in custody" was emerging.
In addition to the rise in the proportion of black and minority ethnic young males, the number of foreign nationals of the same gender increased from 4% to 6%.
The report drew on the experiences of young males aged 15-18 in all nine establishments and 47 young females aged 15-18 in all four establishments in which they were held between 1 April 2010 and 31 March 2011.
More than half of the females and a quarter of the males said they had spent time in local authority care and nearly a quarter of the young women already had children of their own.
When asked what would stop them re-offending, the most typical reply from both sexes was having a job.
However, the majority said they did not know who to contact while they were incarcerated when it came to preparing for the jobs market outside.
According to the report, only 63% of young men thought they were treated with respect by staff, down from 69% the previous year and an average of 76% between 2004 and 2008.
And just 67% said they were treated well or very well in the reception of the young offenders institution, down from 72% the previous year.
Providing 'support'
Mr Hardwick said: "This report has highlighted some deterioration in children and young people's experience of custody.
"Despite the falling numbers, this population has well-defined vulnerability and increasing numbers within minority groups.
"The need, therefore, to provide these young people with support during their time in custody and in preparation for release is as great as ever."
And Frances Done, who chairs the Youth Justice Board, said there was concern that in some areas the experience of youngsters in custody had deteriorated.
She said: "We will be looking closely at the experiences reported by young people and working with all secure establishments to make sure that young people's time in custody has positive results and that everyone working in youth justice is focused on rehabilitating young people to help them achieve a more purposeful life."