Turkey earthquake: Red Cross says survivors need shelter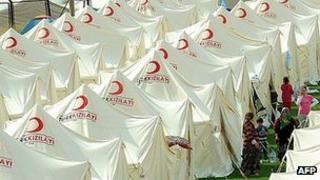 Thousands of survivors left homeless by the earthquake that hit eastern Turkey are in desperate need of shelter, a UK disaster response expert has warned.
Some 2,000 buildings collapsed after Sunday's 7.2-magnitude tremor, which killed at least 460 people.
More are afraid to go home and stuck outside in freezing temperatures, said Katy Attfield of the British Red Cross.
The charity is supporting the Turkish Red Crescent, after Turkey's government said it would accept foreign aid.
"The area affected is mountainous, it's freezing, and making sure survivors have protection against the elements is vital for keeping them safe," said Ms Attfield, who is head of disaster management.
Almost 500 aftershocks have led to fears more buildings will collapse, leaving many people scared to stay inside.
Shipments looted
The Red Crescent is distributing tents, stoves, sleeping bags, food and water and has set up camps in a stadium in Ercis - one of the cities worst affected by the quake which struck the province of Van.
However, it has reported having 17 trucks looted as some survivors fought over shipments of aid.
Cornish charity ShelterBox also has a team in Turkey, working with the Red Crescent to deliver emergency tents and survival equipment.
Turkish ministers had initially insisted the country could cope with impact of the earthquake but ministers have now requested prefabricated housing and containers from other countries, as well as help with reconstruction.
Meanwhile, health officials are warning people to drink bottled water after detecting an increase in the number of diarrhoea cases.