UK Newspaper review: Fury over 'Berlin Time' and Brussels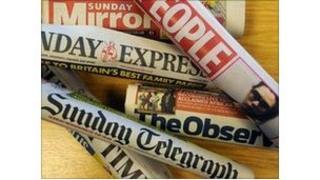 For a second week in succession, the Sunday papers concern themselves with the issue of Europe.
The "clamour" by Britons for the UK to quit the European Union is at a near 30-year high, according to the People.
In an Ipsos Mori telephone poll of 1,000 adults, 49% wanted to leave, while 41% wanted to stay. Two-thirds would like a referendum.
The Sunday Express finds the spectacle of the EU taking a "begging bowl" to China "simply grotesque".
A three-page feature in the Sunday Times likens David Cameron's job in EU negotiations to "dealing with the neighbours from hell".
'Deep hostility'
"Now is the time to give us our say over Europe," according to the Sunday Telegraph.
Will Hutton in the Observer talks of "England's deep-seated hostility to Europe" but predicts economic growth on the continent will soon pick up.
He says the eurozone will look more attractive, with the UK struggling.
There are many tributes to Sir Jimmy Savile, whom the Sunday Telegraph calls "teatime TV's greatest showman" and who died on Saturday.
Sunday Mirror news editor James Saville - no relation - says Sir Jimmy was one of the most "colourful, eccentric and brilliant celebrities in history".
"We've lost a national treasure," says the People, where for 18 years Sir Jimmy wrote a column.
'Berlin time'
The Mail on Sunday marks his passing with the simple headline: "Goodnight, guys and gals."
Finally, as the clocks go back, a debate is raging over the government's hopes of perhaps moving both summer and winter times forward by one hour.
Two Mail on Sunday columnists rail against what they call "Berlin Time".
With the Scottish government against the plan, Prof Tim Luckhurst goes so far as to say the move "could spell the end of the United Kingdom".
But the Sunday Times is in favour. "Go on Prime Minister," it says in an editorial, "lighten our darkness".