UK newspaper review: Spooked by Strictly and St Paul's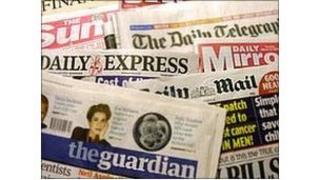 Monday finds a Halloween thread running through some of the papers.
The Times's cartoon depicts Nick Clegg walking towards a haunted eurozone mansion, saying: "I really don't see what people have against this place".
The Guardian and Independent both carry images of St Paul's Cathedral's Dean standing beside a protester wearing pinstripes and a Satanic-looking mask.
The Dean was appealing to demonstrators to pack up their camp outside the cathedral before they are evicted.
'Brickie in frock'
The eviction of Nancy Del'Ollio - in spider's web dress - from Strictly Come Dancing provides the main image for the Daily Mail and Daily Telegraph.
Her Halloween-themed rumba had horrified judges.
Whichever dance she attempted, she stomped around like "a brickie in a frock trying to put out cigarette butts", says the Mail.
The Daily Express argues: "Her rumba may have been rancid and her foxtrot a failure but Nancy was a great sport."
The government is to put £1bn of public money into 100 projects to kick-start the economy, the Telegraph says.
The Regional Growth Fund will be used to update the UK's infrastructure and create 35,000 new jobs, it reports.
'Hail the King'
In the Financial Times, the PM declares "an all-out mission... to unblock the system and get projects under way".
The Express reckons ministers are considering a state-backed investment agency to fund building projects in a bid to spur economic growth.
The change to the royal succession rules excites a few of the papers.
A 50-year-old German aristocrat could have been on the throne today if sex equality had been around more than 300 years ago, the Daily Mirror reveals.
It declares: "All hail our new monarch! King Friedrich August Maximilian Wilhelm Carl Furst von Wied."
A letter to the Independent raises a new concern: "What's with this ageism? Why the first child? Why not the second or third?"