Police 'confession' crime detection rates revealed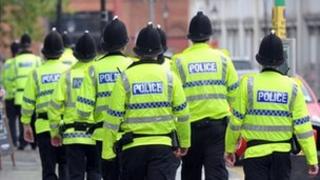 The extent to which police boost their detection rates by getting offenders to confess to other crimes has been revealed by figures seen by BBC News.
The practice of asking for crimes to be "taken into consideration" was applied to nearly 69,000 offences last year.
Some lawyers say the system could lead to police urging suspects to confess to crimes they have not committed.
The figures for England, Wales and Northern Ireland were disclosed under the Freedom of Information Act.
Clean slate
One suspect arrested by the Metropolitan Police asked for more than 400 offences, mostly burglaries, to be taken into consideration.
Having offences taken into consideration (TIC) arises when someone is accused or convicted of a crime and admits other offences in order to wipe the slate clean.
The suspect receives credit from the courts for admitting the offences and avoids being prosecuted for them later on.
For police, the benefits are greatly enhanced detection rates.
Of all crimes that were cleared up last year, 68,976 (almost 6%) were as a result of offences being taken into consideration.
The figures cover all forces in England, Wales and Northern Ireland excluding Greater Manchester Police, which did not provide information, and British Transport Police. The TIC method is not used in Scotland.
Reassurance to victims
Overall, TICs accounted for 35% of all detected burglaries and 25% of detected car crimes.
The highest TIC rate was in South Yorkshire, where 19% of detected crimes were solved this way.
The lowest levels were in Gwent and the Police Service of Northern Ireland, where only 0.5% of detected crimes were cleared up by TIC.
Det Supt Richard Fewkes, of South Yorkshire Police, said the force used the TIC approach because it gave reassurance to victims that offenders were brought to justice for their crimes and helped build up an intelligence picture of offending and likely targets.
But Det Supt Fewkes said safeguards were in place to ensure that the system was not abused simply to obtain better detection rates.
"The offence that's admitted by the offender has got to be corroborated by other evidence," he said.
"The final measure really to ensure that it is appropriate is the judge at court when he or she passes sentence because it's ultimately the court that decides whether that will be accepted or not."
Inducements allegations
The largest number of offences that a single individual confessed to last year was with the Metropolitan Police, where one suspect asked for 404 offences to be taken into consideration, all but two of which were burglaries.
One suspect in South Yorkshire was linked to 301 TIC offences - mainly burglaries, car thefts and fraud offences.
However, the Independent Police Complaints Commission (IPCC) has conducted three inquiries in the last six years into allegations that police offered inducements to suspects to confess to crimes as part of TIC.
Two of the investigations - in the Met and Merseyside - led to three officers being dismissed and three others disciplined.
The third inquiry is examining claims that two detective constables from South Wales Police offered an offender, Sean Wall, alcohol and visits to his family in return for confessing to crimes.
"He was taken on what's known as a drive around," said Nadeem Majid, Wall's solicitor.
"Police put you in the back of a car and drive you around and say do you remember burgling this house? Yes or no answers, taken back to a police station, interviewed on this," said Mr Majid.
The solicitor alleged that Wall could not have committed some of the offences he told police that he had carried out.
"What subsequently transpired was out of the 11 offences he had asked to be taken into consideration my client was actually in custody when seven of them were committed. He couldn't have done them."
The IPCC said the two South Wales officers were facing a gross misconduct hearing next year but it had found no evidence of "wider systemic abuse".
Listen to a full report on Law in Action on BBC Radio 4 at 16:00 GMT on Tuesday 1 November or download the programme podcast.