UK newspaper review: Church 'crisis' explored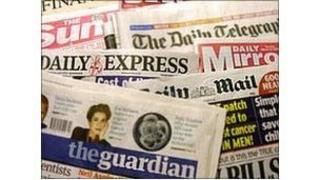 The Church of England leadership is in crisis amid confusion over its response to the anti-capitalist camp outside St Paul's cathedral, several papers say.
It's "extraordinary" that Archbishop of Canterbury, Dr Rowan Williams, has failed to say anything significant on the issue, the Independent believes.
The Daily Express has no time for what it calls "the hand-wringing and fence-sitting" of senior clergy.
They should be calling on police to clear the cathedral precincts, it says.
'National joke'
One disgusted protester tells the the Times he's leaving the St Paul's protest camp because it attracts "bawdy hedonism, drink and drugs".
The Daily Telegraph highlights comments from local MP Mark Field that St Paul's is now "a national joke".
Several stories focus on the ongoing economic squeeze, with the Daily Mirror suggesting the economy needs "the kiss of life", not austerity.
Many middle class workers plan to delay retiring until 70 to provide support to grown-up children, the Daily Mail says.
'Fiasco'
This economic gloom sees little enthusiasm for a government initiative to measure how happy people are.
Under Office for National Statistics plans, the Mail says people will be asked questions such as: "how satisfied are you with your husband or wife?"
The "happy survey fiasco" is a waste of time and money, says the Daily Star.
Millions of people are out of work - "they are not happy" - it declares, suggesting "idiot ministers" should focus on fixing the economy.
'Men's stuff'
The Sun and the Daily Mirror cover the crash of an unmanned "spy-in-the-sky" police drone into the river Mersey.
The £13,000 aircraft was being flown on a training mission by officers from Merseyside Police and is unlikely to be recovered.
Finally, the Daily Mail and Daily Telegraph are intrigued by a survey showing many people do not park cars in the garage.
The papers reckon the real reason for leaving the car outside is that men have filled their garages with "stuff".