Berezovsky had key role in forming Sibneft - Abramovich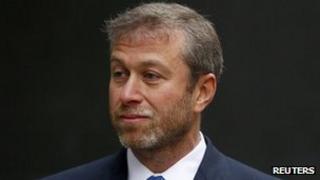 Chelsea Football Club owner Roman Abramovich has said Boris Berezovsky played an "exceptionally important role" in the creation of the company at the centre of their High Court battle.
Mr Berezovsky claims Mr Abramovich, 45, "intimidated" him into selling shares in the Russian oil company Sibneft for a fraction of their true worth.
Exiled Russian oligarch Mr Berezovsky, 65, is claiming £3bn in damages.
Mr Abramovich, 45, denies breach of trust and breach of contract.
Under cross-examination at London's Commercial Court, Laurence Rabinowitz QC accused Mr Abramovich of trying to downplay Mr Berezovsky's role in the negotiations that led up to the formation of Sibneft.
Mr Abramovich denied the claim, and said his former business partner had been key in securing the support of one of the bosses of the companies Sibneft was formed from.
"Had it not been for Mr Berezovsky we would never have been able to ensure a presidential signature on the decree," said Mr Abramovich, speaking in Russian with his words translated into English.
"The role he played was an exceptionally important role and I fully confirm that.
"We would not have achieved anything without him."
'Make money'
It is Mr Berezovsky's case that billionaire Mr Abramovich "betrayed" him and intimidated him into selling a 21.5% stake in Sibneft for a "mere $1.3bn" (£800m).
But Abramovich denies Berezovsky ever had an interest in the company.
Cross-examining, Mr Rabinowitz asked Mr Abramovich: "Do you accept that it was your expectation in 1995 that if you could get control of Sibneft this would produce huge profits for you?"
To which Mr Abramovich replied: "I did expect that sooner or later I would make some money, yes that's true."
On Monday, Mr Abramovich told the court that claims he betrayed Mr Berezovsky were "wholly without merit".
Mr Abramovich, who denies the allegations and denies that Mr Berezovsky is entitled to damages, is expected to continue to be in the witness box for several days.
The hearing continues.