RSPB urges crackdown on poisons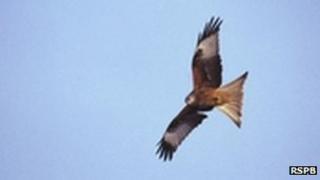 The RSPB is calling for the possession of poisons used to illegally kill wildlife to be outlawed in England, Wales and Northern Ireland.
The charity says laws are already in place in Scotland but need to be tightened in the rest of the country.
It says there were 128 reports of birds of prey poisoned in the UK last year.
The government says strict measures are in place to stop the persecution of birds of prey and many of the pesticides used are illegal.
The RSPB figures are lower than the previous year - when 153 reports were received - but contain several, what the conservationists call, "very serious" incidents.
These include the first poisoning in living memory of a golden eagle in Northern Ireland.
The RSPB Birdcrime 2010 report lists 20 red kites, 30 buzzards, two goshawks, eight peregrines, five golden eagles, one white-tailed eagle and one sparrow-hawk that were found poisoned.
And it believes the true number could be much higher as many incidents go unreported.
Under laws brought in in 2006, it is already illegal in England and Wales to possess certain pesticides which are harmful to wildlife, unless the owner can prove they have them for a lawful purpose.
However, a list of which substances are controlled in this way has not been published. The RSPB says this renders the law "impotent".
In Northern Ireland a similar law has just been brought in but again no list of chemicals has been published.
In Scotland, where the controls have been in place since 2005 and a list of banned pesticides has been produced, the RSPB says 10 convictions have been secured under the rules.
The Conservation Director of the RSPB, Martin Harper, said: "If this government is serious about tackling illegal persecution of birds of prey, it really needs to start taking meaningful action.
"Putting additional controls on the possession of these common wildlife poisons would be a relatively easy first step, especially as these controls would not affect legitimate pesticide uses."
A spokesperson for the Department of the Environment, Food and Rural Affairs said the government was considering the laws surrounding the possession of pesticides that are harmful to wildlife.
He said: "Many of the substances listed in the report do not have UK approval or have had it revoked, so to own them is actually illegal.
"There are already strict laws in place to stop the persecution of birds of prey and protect them. We will continue to work with the police and conservation bodies to do all we can to crack down on anyone breaking these laws."
Chris Dowse, who manages a 6,000-acre estate in Lincolnshire, was named the Farmers Weekly Countryside Farmer of the Year 2011. He said it was disappointing that some people had what he called "outdated" attitudes to birds of prey on their land.
He said: "I love seeing red kites and buzzards over the estate. Anyone who persecutes birds of prey is not only breaking the law, they're preventing people seeing these magnificent birds and destroying the reputation of our entire community."
The RSPB's Birdcrime report also reveals the charity received 227 reports of the shooting and destruction of birds; 40 reported incidents of egg-collection; 31 reports of the illegal taking, possession or sale of birds of prey, and 63 reports of illegal taking, possession or sale of wild birds, other than birds of prey.
The highest number of reported incidents against birds of prey and owls was 54 in North Yorkshire. The Highlands reported 41 crimes against birds of prey and owls, while Derbyshire and Northumberland recorded 20 incidents each.