Greece and eurozone dominates papers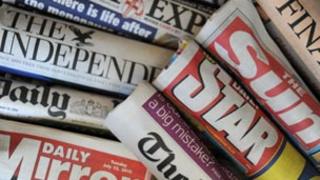 The political turmoil in Greece and the future of the eurozone still dominate in most of Saturday's newspapers.
The Guardian warns a global recession is growing closer after what it calls "the failure" of the G20 summit, which was a "fiasco from start to finish".
The Daily Express ponders the future of the Italian economy and concludes while Greece is in ruins, the eurozone will be caught fiddling while Rome burns.
Meanwhile the Daily Mail sums it up as a "shameful and depressing week".
Double dip?
The Daily Telegraph leads with a warning from David Cameron that the world cannot wait for the eurozone countries to sort out their problems.
The paper says the prime minister believes the UK economy is suffering every day that the crisis drags on.
The Times goes further and says the PM thinks Britain could be dragged into a double-dip recession.
And according to the Express, the true cost to Britain of rescuing the eurozone has reached £14,000 per household.
St Paul's protests
The continuing anti-capitalist protests outside St Paul's Cathedral are featured in several papers.
The Independent thinks the camp has become a "beacon" for all manner of people, from protesters, to bemused tourists, to those feeling lost in life.
The Telegraph bemoans the "befuddlement" of clergyman involved in what it calls "the fiasco".
The paper says the Church's handling of the situation has shown the lack of calibre in its hierarchy.
Weather woes
The Mail does not think much of the 2012 Olympics posters.
"A splodge of blue paint and coffee cup rings. Infant school art?" it asks.
But the Times takes a different view and decides the Olympics promises to be a "highbrow to lowbrow festival" that mixes fun, spectacle and seriousness.
Finally, the same paper examines why the Roman invasion of Britain finally failed, concluding that it was nothing to do with Saxon pirates or Boadicea's uprising - but our grotty weather.