Royal Mail parcel hubs to help Christmas post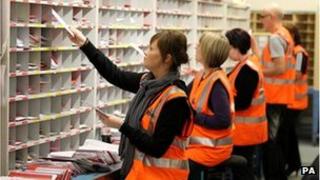 The Royal Mail is setting up nine parcel hubs to cope with the expected Christmas increase in packages.
The temporary centres at Glasgow, Edinburgh, Swansea, Swindon, Watford, Bristol, Peterborough, Manchester and Nuneaton will run until 24 December.
A Royal Mail spokesman said the centres were gradually being brought into service from 7 November.
Consumer Focus said it was good to see steps being taken to stop frustrating Christmas delays from happening.
"Another spell of bad weather in December could really test its ability to deliver our post on time," the spokesman added.
The Royal Mail hopes that by separating parcels from cards and letters it will reduce congestion at existing sorting and distribution facilities.
"The £15m we are investing [in the centres] is in addition to the substantial financial commitment Royal Mail makes at Christmas to fund its seasonal operation," the Royal Mail spokesman said.
"Christmas is the busiest time of year for Royal Mail and our customers.
"On peak days we handle around 130 million items - around double our normal average daily mailbag of 62 million items."