London 2012: Bell-ringers pull out of 2012 celebration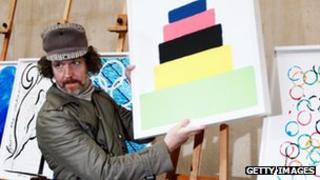 The UK's bell-ringing body has pulled its support for a work by Turner Prize-winning artist Martin Creed that forms part of London 2012 celebrations.
The Central Council of Church Bell Ringers says plans to ring bells ahead of the Games' opening are misconceived.
Creed's "Work No. 1197: All the bells in a country rung as quickly and as loudly as possible for three minutes" is due to happen at 0800BST on 27 July.
Organisers want everyone to join in, using all bells from church to door.
But campanologists have clashed with the conceptual artist and production company staging the event across the UK.
Discussions with the CCCBR have stopped, with the president of the ringers' council criticising the timing and design of Creed's idea on her blog.
"We are not able to work closely with this project as we believed it is misconceived," Kate Flavell wrote.
She said the artistic idea was out of kilter with ringers' "views and practices".
The council, which represents societies across the UK and abroad, said it could not reach agreement with organisers.
"Eight am is not the right time for ringing in very many towers and for very many ringers, although it is an improvement on the 4am time they originally suggested.
"We do not believe ringing for three minutes nor ringing as fast as possible is really suitable for church bell ringers," she said.
Mrs Flavell told the BBC it was not possible to vary the volume and timing of bells, because the sound, and the way they are rung by turning them through a full circle, is set.
'Special events'
The event is part of the cultural Olympic celebration Festival 2012 and is planned for the day of the opening ceremony.
Asked if the opening of the Olympic Games was a special exception, Mrs Flavell said: "There's an awful lot of people who think their event is special - centenaries, Children in Need, 'can you ring for that...'. We're always getting requests to ring.
"It took five years of planning for the Millennium ringing at midday on 1 January and even then I don't think all the bells rang. It was really, really difficult.
"I appreciate Martin Creed is an excellent Turner-Prize winning artist and he's had this bright idea, but it's been set about being implemented without any knowledge of ringing."
She said it was up to individual church bands if they wanted to join in, but CCCBR efforts would be concentrated on performing Howard Skempton's specially-commissioned piece for the Games at different times in 2012.
Creed numbers and literally-names each of his art works and is best known for winning the controversial Turner Prize in 2001 for Work No. 227: the lights going on and off, an empty room in which the lights flicked on and off at five second intervals.
He has also designed one of the Olympic posters for the 2012 Games.
He said of the bell plan: "Whenever I've heard lots of bells ringing, when there's a wedding or stuff like that, or when I was a kid, I thought it was brilliant. It makes me feel happy to hear that, so I thought this is a piece of music which has been arranged for this special occasion.
"This consists of trying to ring all of the bells in the whole of Britain for three minutes as loudly and as quickly as possible. That includes all types of bells that you can find. I don't know which notes are the best ones, so I think it's best to just ring them all at once.
"It totally relies on people to make it happen. It seems like an absurd thing to do, the idea that you can exercise enough control and organisation to even make it happen..."
SGA productions is responsible for making the commission work across the country. CEO Sarah Gibbon said she would love church bells to ring out and join "all the other bells from schools, town halls, fire stations, bicycles, doors, cows and instruments".
But she said despite working on it for the last couple of years, the nature of ringing bells as quickly as possible had "made people get a bit stressed".
She said the timing had been moved from dawn to 8am and the bells could now ring as long as they wanted to. But there had been a clash between a conceptual artist and a traditional organisation, and it was now up to individual bell-ringing groups to join in.
"We are going to try to get everybody onside and we will do our best to get everybody to take part that wants to," she said.