Newspaper review: All things euro prominent again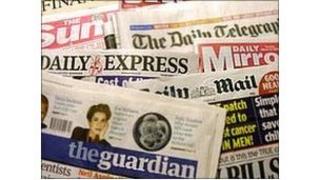 All things euro again preoccupy the papers, with the Financial Times reporting that the UK has recently become the investment haven of Europe.
The Daily Telegraph says referendums could be held in a number of countries over new EU powers to stop excessive government borrowing and spending.
Meanwhile, the Daily Express complains about "Brussels bureaucrats".
It says proposals that would end "buy-to-let" mortgages could cause a house price crash in the UK.
Care concerns
A Times investigation has found doctors being silenced by NHS trusts to prevent them raising concerns about patient care to the General Medical Council.
The GMC condemns three trusts for behaving "totally unacceptably".
According to the Guardian, MPs investigating phone hacking are to come down on the side of James Murdoch - after a fashion.
The Commons Culture and Media committee is to characterise Mr Murdoch as "incompetent rather than mendacious".
Lesson to learn
The Daily Mail leads with a report that former military personnel are to go to the top of council house waiting lists.
It says councils should stop insisting on applicants having a connection to the area, which shuts out service families returning from overseas.
In the Telegraph, a top headmistress complains that teacher training now treats lesson content as secondary.
"Trendy classroom processes" are considered more important than subject knowledge, Bernice McCabe argues.
Show of respect
According to the Daily Mirror, X Factor judge Louis Walsh has threatened to quit the IV1 show.
"It's no fun. It's become a proper job. It may be time to bow out," he is quoted as telling a friend.
The Sun an exclusive interview with Frank Lampard, captaining England for today's friendly against Spain.
"It's something the players felt very strongly about," he says of the wearing of poppies on their armbands, "to go out there and show our respect."