UK newspaper review: 'Ciao' to Berlusconi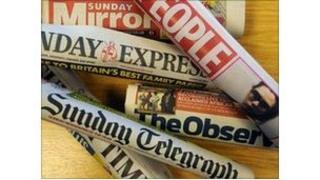 The papers bid "Ciao" to the outgoing Italian prime minister.
"Billionaire showman and reputed 'great seducer', Silvio Berlusconi was also the ruin of Italy," writes the Sunday Times' John Follain.
Not just Italy, but "Europe and the global economy will be better off without him", says the Daily Star Sunday.
But, given the "bunga bunga" stories, the Sunday Mirror predicts "a long queue to get into his leaving party".
Out of control
"Millions in new border control scandal," reports the Sunday Telegraph.
The paper says that for four years all but the most cursory passport checks were abandoned for passengers on UK-registered coaches arriving at Dover.
This happened after French officials complained about congestion in Calais caused by backlogs at passport control.
The Sunday Times leads on claims by a UK Border Agency whistleblower who says the organisation is overwhelmed by the number of foreigners coming to the UK.
Solar pressure
Business leaders, councils, environment campaigners and unions have written to No 10 protesting against the move to cut funding for household solar energy, reports the Independent on Sunday.
The letter warns that Britain's booming solar panel industry will be "strangled at birth", threatening 25,000 jobs.
Chaos and misery is anticipated by the Sunday Mirror for people travelling by rail over Christmas.
It reports that nearly 50 separate engineering works are being planned.
Care for comrades
On the day honouring the UK's war dead, many papers highlight what the Sunday Express calls the needs of the present.
"Our brave troops are risking their lives every day but do we do enough for them when they come home?" it asks.
The Telegraph highlights serious questions over equipment, pay, support and housing for troops in recent years.
"If our war ghosts could rise up and speak, they would urge us first of all to look after their comrades among the living," the paper insists.