Press watchdog 'needs more teeth', Kenneth Clarke says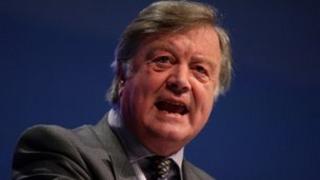 The press watchdog must have "more convincing teeth", and cover the entire industry, to restore confidence after the phone hacking scandal, Justice Secretary Kenneth Clarke has said.
Speaking at the Society of Editors' annual conference in Egham, Surrey, Mr Clarke said he backed press self-regulation.
He also said a "totally free press" was crucial to a free, democratic society.
His comments came on the day an inquiry into press standards was launched.
In his speech, Mr Clarke said what was needed was a "balanced" response that would restore confidence and be "an assistance to all those responsible journalists who work for newspapers and know there are lengths beyond which one does not go in proper journalism".
Newspapers must be allowed "to carry on enraging some politicians, getting under the skin of governments, and deeply embarrassing public figures" where there was a public interest, he said.
'Everybody'
But Mr Clarke insisted any new regulator "must have some force".
"If you want to win the support of those whose instincts are in favour of self-regulation and against any government organisation then you've got to persuade your profession that self-regulation means everybody is going to have the regulatory system."
"The self-regulatory system must have some more convincing teeth than it is seen to have at the moment. That is very broadly where we should go," he said.
Northern & Shell, publishers of the Daily Express, OK!, the Daily Star and the Star on Sunday, stopped paying into the fund that supports the Press Complaints Commission (PCC) in January, meaning they are no longer covered by the regulator.
Mr Clarke went on to warn against paranoia and over-reaction, backing the call for self-regulation by Associated Newspapers editor-in-chief Paul Dacre, in which he said over-regulating the press would "put democracy itself in peril.
A "totally free press" and a "powerful and influential parliament" were both crucial to a free and democratic society, he said.
'Shocking'
The Justice Secretary went on to say that knee-jerk reactions, and any possible desire for revenge on the press, should be avoided.
But Mr Clarke also urged editors not to underestimate the "shocking effects" of recent revelations.
Comparing the revelations to the MPs' expenses scandal, he added that the "reputation of our trade has taken a very big knock on the head and it's that we have to address".
Meanwhile, media commentator Roy Greenslade has said MPs looking into phone hacking at the News of the World were put under covert surveillance in 2009.
He said the newspaper had used private investigators and journalists to trail "every member" of the Culture Select Committee.
This was ordered by a "senior executive" and continued for between three and 10 days, he said, before there was a "complete change of heart at the top level" and "everyone was told to stop doing it, not to talk about and give up on the whole enterprise".
The present-day members of the select committee are expected to discuss the claims on Tuesday morning.
Labour MP Tom Watson cancelled his appearance at the Society of Editors' annual conference to seek advice from Speaker John Bercow and consider the "legal and constitutional" implications.
Louise Mensch, a Tory member of the committee, stressed there was "absolutely no proof" the claims were true but MPs would look into it.
"It is chilling, it is terrifying; it sort of says 'Don't mess with us or we will come to get you'," she said.