Newspaper review: Papers downbeat on the economy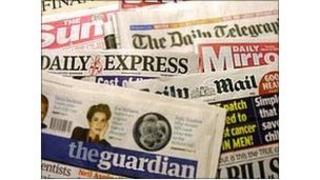 If the Guardian is right, Britain is in the grip of a "feel-bad factor".
The paper draws on a think tank study that suggests Britons believe the UK is "the second-worst country in Europe to live and work in".
And, as other papers also make clear, the continuing crisis in the eurozone has dented hopes of a recovery from what the Daily Mail calls "a battered, flat-lining economy".
The Daily Mirror fears the government has created "a lost generation".
Action call
The Sun says our prospects are "tough" but "it is not all doom and gloom".
The paper thinks the UK - by contrast with Greece, Portugal, Italy, France and Spain - "is fast becoming one of the world's safest havens".
"Where is the action?" asks the Daily Express.
However, it does give the Conservatives credit for recognising that the public feels "growing anger" at the immense cost UK taxpayers would face if there was a total meltdown of the euro.
Film review
Across the river from Parliament, a billboard has been unveiled for the forthcoming movie about Lady Thatcher.
The Daily Telegraph says former colleagues have "distanced themselves" from a portrayal that shows her as "a stooped old lady in a headscarf... a lonely figure sliding into dementia".
The Daily Express says the film, and its star Meryl Streep, try to show the former leader's "more human side".
The Times is much more positive. "Streep gets everything right," it says.
Festive wishes
The way the papers go about their business is now, of course, the subject of Lord Leveson's judge-led inquiry.
On the basis of the clues from its first day, the Independent expects to see the press put "on trial".
And finally, Christmas is coming - and young people are beginning to reveal what they want. A correspondent to the Daily Telegraph says his six-year-old son has asked for a trillion pounds.
He observes: "I can see a career in European politics beckons."