Leveson inquiry: Early signs of judge's thinking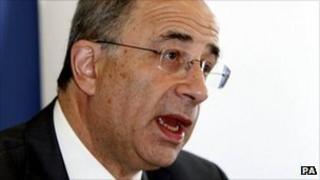 What will the judge leading the inquiry into media practices and regulation recommend?
Lord Justice Leveson says he wants his inquiry to mean something, and not to be left gathering dust.
Just a few days into the inquiry, there are already some clear hints about his thinking.
Criticism
Journalists fearing they will see their names blackened in his initial report can rest easy, for now.
In this part of the inquiry the judge says he does not consider it his role to make "findings of fact" about the behaviour of individual newspapers or editors.
Should anonymous reporters give evidence criticising papers they will probably not be allowed to name them, unless their allegations are already public or they are talking about the News of the World.
The rules of engagement will change when Lord Justice Leveson gets to the second part of his inquiry examining the extent of wrongdoing at News International.
That does not mean, of course, that individual papers and even journalists will not be criticised by named witnesses.
Regulation
One of the central questions for the judge is how the press should be regulated.
From the inquiry's own barrister, Robert Jay QC, there has been little love for the Press Complaints Commission (PCC) - the current regulator.
Mr Jay acknowledged the PCC offered useful advice and a relatively speedy service, but said it left the impression that it operated "largely without teeth" and was unable to force papers to obey its will or even to take part in its processes.
Something sharper was required, he said.
Control
Some journalists are anxious that any replacement for the PCC could compromise their independence.
Their worst fears - that the inquiry might give politicians the power to silence them directly - seem unlikely to be realised.
News International's lawyer, Rhodri Davies QC, said he was concerned a new system of regulation might allow a "mechanism for governmental control over the press".
Lord Justice Leveson was quick to reassure him. The barrister was, he said, pushing at an "absolutely open door" when he made that argument.
Indeed, he has gone out of his way to stress his faith in the quality and the scale of good journalism
He said: "Nobody need convince me that the vast majority, the overwhelming majority of journalism practised in this country, is very much in the public interest and has the public interest at its heart."
Change
Different participants will have different views about what qualities a new regulatory system should have, but the word "cheap" came up time and time again when when Mr Jay gave evidence.
Or - as he put it - the inquiry would not be attracted by solutions which are limited to "the wealthy and the bold".
For many commentators the key debate is whether a new system would see the papers regulating themselves, or fall subject to an external arbiter.
Lord Justice Leveson said he wanted to widen this debate; suggesting the two models could be combined.
There is a precedent. The Advertising Standards Authority - a self-regulatory body - keeps a check on broadcast adverts on behalf of Ofcom, the statutory broadcast regulator.
Should a broadcaster repeatedly and seriously misbehave Ofcom can revoke its licence.
This is known as "co-regulation"; an ugly bit of jargon perhaps but one that is likely to play an important part in the inquiry's deliberation.
None of this is to suggest minds are made up. Where Lord Justice Leveson appears to express an opinion, he is careful to caveat his comments. The inquiry's barrister is not simply a mouthpiece for the judge.
They are, for now, inquiring not concluding.
But lawyers and witnesses will monitor Leveson's words carefully, trying to guess the mind of a man with the future of press regulation in his hands.