Newspaper review: Eurozone crisis considered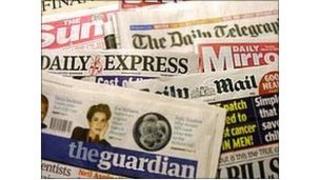 As Prime Minister David Cameron prepares to head to Brussels and then Berlin, the papers scrutinise the ongoing situation in the EU.
The Guardian and the Independent both focus on the ongoing eurozone crisis.
The Guardian says Mr Cameron will be warned that the UK risks creating unstoppable momentum behind a two-speed Europe if it demands too many concessions during the eurozone crisis.
And the Independent says he will oppose German moves for a new EU treaty.
'Missed opportunity'
The Daily Mail wonders why George Osborne is selling Northern Rock at a time when the markets are in turmoil.
And it questions if he missed the opportunity to sell the Rock a year ago when bank shares were buoyant.
The Daily Mirror thinks the sale is an attempt to obscure deeper problems.
The Daily Express feels any anger should be directed at those who got the bank into trouble in the first place and the Sun concurs, arguing that "half a loaf is better than none".
Lending concerns
The Times reports that millions of benefit claimants face losing nearly a billion pounds of increases planned for next year because the government is changing the way they are calculated.
Meanwhile, the Financial Times reports that concern about the deepening EU debt crisis has prompted British banks to reduce their lending to institutions on the periphery of the eurozone.
The paper adds that the "Big Four" banks cut their inter-bank lending by more than 24% in the three months to the end of September.
The number of hospital patients being treated on mixed-sex wards rose for the first time since it was banned last year, according to the Daily Telegraph.
Racism row
Figures show there were more than 1,200 breaches in October compared with just over 1,000 in September.
And the Independent accuses Fifa president Sepp Blatter of understanding everything about the value of money and nothing about racism.
It says the Football Association here has a moral duty to force him out.