Libya: UK 'should not interfere' in Gaddafi trial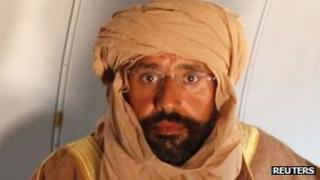 The UK government should not interfere in the trial of Colonel Muammar Gaddafi's son, Foreign Office Minister Alistair Burt has said.
Saif al-Islam, 39, was captured by Libyan fighters on Saturday.
He is wanted by the International Criminal Court (ICC) for alleged crimes against humanity.
Meanwhile, shadow chancellor Ed Balls said Labour had "nothing to fear" about any revelations regarding the party's links with the Gaddafi regime.
Regime differences
Mr Burt told Dermot Murnaghan on Sky News that the government had also sought reassurances from the Libyan authorities that Saif al-Islam would receive a fair trial.
"We have got confidence in both the ICC and what we have heard from the Libyan authorities, that between them they will be able to work out where a trial will be held - and then it will be held under international standards and conditions," he said.
"It's very important that Saif al-Islam does have a fair trial, that he answers the charges that have been levelled against him by the Libyan people, and we will support that process.
"I think the new Libyan government does understand what is at stake here.
"They want to show that their government is different from the regime and this trial, this opportunity to demonstrate that, is very important for them."
Mr Burt also said that Libya's rulers should be allowed to "get on and do their job between them and work out the best place for a trial".
Any legal process would need to be carried out under international conditions and with international observance and monitoring, he added.
"I think there is an issue of sovereignty involved," he said.
"I think there is an issue of pride of what has been achieved in the revolution in Libya.
"These are people who understand what is at stake and are going to work with the International Criminal Court, and we will provide all assistance to both to find the best answer as to now what to do with the trial and the facing of justice of Saif al-Islam."
'Right motive'
In 2004, the then prime minister Tony Blair met Col Gaddafi in the desert near Tripoli for talks following the Libyan leader's renunciation of weapons of mass destruction.
The meeting came after years of strained relations following the 1988 Lockerbie bombing and murder of WPC Yvonne Fletcher outside the Libyan embassy in London in 1984.
In April, Mr Blair defended his meetings with Gaddafi, saying: "I don't think we were wrong to make changes in our attitude to Libya when they changed their attitude to us."
Mr Balls was questioned by Dermot Murnaghan about Labour's relationships with Saif al-Islam during the years of rapprochement with Libya.
The shadow chancellor said the party had "nothing to fear" from what he might say in open court.
He said Mr Blair, his successor Gordon Brown, and the Foreign Office's intelligence experts thought at the time that talks with the Libyan regime were a "positive step forward".
He said: "They went in to it with open eyes and the possibility of progress.
"Now clearly, Colonel Gaddafi ended up breaking agreements, not making progress, and I don't think a Labour government or any government should have anything to fear from open disclosure, because I know that at that time the motive was the right motive.
"Clearly events have turned out in a very different way, and we've had a very important campaign in the last few months, which the Labour party has supported whole-heartedly."
Mr Balls added that aside from political negotiations, there had been "business and investment discussions" regarding British companies who had been attempting to secure projects in Libya.
"It's the right thing for the British government and the Foreign Office to do, to try to make sure you secure investment and jobs, [but] the motive for opening up dialogue in the middle part of the last decade was a potential breakthrough on disarmament," he said.