Spain's Mariano Rajoy congratulated by David Cameron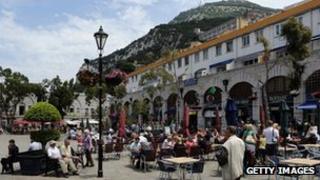 Prime Minister David Cameron has called Spain's newly elected leader Mariano Rajoy to congratulate him on his party winning the nation's elections.
The Partido Popular (Popular Party) beat the incumbent Socialists.
Mr Cameron told Mr Rajoy he was looking forward to working closely with the new Spanish government, Number 10 said.
Mr Rajoy's PP party has previously said Gibraltar should not retain its current right to have a vote or veto in any discussion about its future.
A Downing Street spokeswoman said Mr Cameron had told Mr Rajoy that he had won "a crucial argument at a vital time for Spain and Europe.
"Mr Rajoy said he followed UK policy closely and was keen to establish a close partnership with the prime minister."
The new Spanish leader has previously stated strong views about the issue of Gibraltar, which the UK has held since 1704. Spain ceded sovereignty in 1713 but has repeated claims to the territory at its southern tip.
The PP stated in its electoral manifesto, published earlier this month, that it wanted to return to only allowing Spain and the UK a vote or veto in any discussion over Gibraltar.
The British territory has been allowed to represent itself in inter-governmental talks with the UK and Spain since 2005, in a trilateral arrangement.
Mr Rajoy has previously said that giving Gibraltar a veto was "simply humiliating".
A Gibraltar government spokesman said: "The Gibraltar government will be happy to work within the trilateral forum with the new government of Spain, but there can be no going backwards on the architecture of dialogue or the agreed rules of engagement."
In 2002 voters in Gibraltar overwhelmingly rejected the option of Britain and Spain sharing sovereignty over the territory in a referendum organised by the local government.
The referendum was not recognised by either Britain or Spain, and Mr Rajoy, who was then deputy premier, declared it ''illegal".