Private security firm G4S issues prison work guidance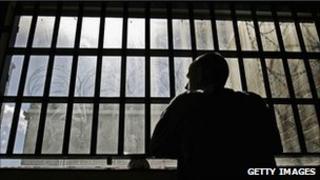 G4S, the private security firm which runs five jails in England and Wales, has released guidance for firms wishing to use a prison workforce.
Justice Secretary Ken Clarke wants inmates to work a 40-hour week and to increase the number of full-time prison industry jobs from 9,000 to 20,000.
He says it would prepare inmates for jobs on release and cut reoffending.
The Howard League for Penal Reform said everyone gains from prisoners working but it needed to be done "properly".
G4S, which has worked with private companies to provide paid employment for prisoners in a variety of fields such as IT and engineering, said it had issued the guidance to encourage businesses to "play their part" in the "rehabilitation revolution".
It said businesses which used the schemes not only benefit commercially, but also helped to "dramatically" reduce reoffending rates - in some cases bringing their reoffending rate down as low as 3%, compared to the national average of 50%.
'Significant barrier'
Richard Morris, managing director of G4S care and justice services, said "engendering a work ethic with prisoners equips them with the attitude, training and skills to play a meaningful role in communities" and "allows them to start paying restitution to those affected by their crimes".
But he said the firm's research demonstrated an "extremely low awareness of the government's initiative and little appetite by the business community to even consider getting involved with those within the secure estate", which was "a significant barrier to bringing about the rehabilitation revolution".
G4S-commissioned research of more than 500 senior managers in small and medium businesses to explore their attitudes to working either in, or with prisons.
It showed that nearly two-thirds were unaware of the government's initiative to make prisons places of work, and 51% were unconvinced that there might be any incentives to working within or with a prison.
Among the listed perceived barriers to business' involvement were concerns about quality of work (55%), poor skills levels (56%), security issues (60%) and bureaucracy/red tape (58%).
Research also demonstrated a lack of awareness among business leaders of the benefits working prisons could bring, such as low overheads, modern working facilities and low wages.
'Proper contract'
Mr Clarke has welcomed the G4S campaign, saying he is "determined to turn our prisons into places of hard work and reform" and calling on businesses to get involved.
"G4S is among the pioneers in this area, providing constructive hard work at the prisons they manage. Prisoners at Altcourse Prison near Liverpool do an impressive 40 hours of hard work every week in a metal workshop, producing office furniture. It's a proper, profitable business.
"Part of their earnings goes to fund services for victims of crime and because these prisoners have got some skills, they are less likely to return to prison," he said.
Andrew Neilson, director of campaigns at The Howard League for Penal Reform, said "getting prisoners off of their bunks and into employment" was an "excellent way" of reducing reoffending.
"It enables prisoners to contribute to their families so that we can reduce the benefits bill and help to keep those families together," he said.
But he said the way in which the "radical reform" was implemented had to be done correctly.
"At the moment, prisoners tend to be randomly corralled into doing work. The prison service sells prisoner time as a commodity. If your time is sold by someone else, you have no obligation to perform well, meet the requirements of a contract, and in fact have no real responsibility for your work at all.
"If however, you sell your time directly to your employer, you take on the responsibilities and rewards for the job. We propose a model where there's a proper employer-employee relationship with a contract and payments of tax and national insurance," he said.
Juliet Lyon, director of the Prison Reform Trust, said: "Too often doing time ends up as wasting time. Opportunities for work and training are very limited in our overcrowded prison system. Just 36% of people leave prison with training or a job to go to.
"A focus on constructive paid work and rehabilitation could help reduce sky high re-offending rates."