Chandlers contempt action due against Sky News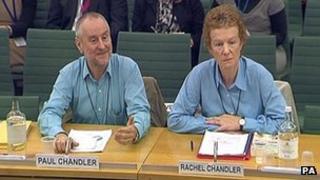 The High Court has allowed a contempt of court action against Sky News over its coverage of kidnapped Britons Paul and Rachel Chandler.
The attorney general alleges Sky News breached a court order by reporting their release by Somali pirates before the couple reached "a place of safety".
The Kent couple had been captive for 13 months before being freed in 2010.
Sky says it "scrupulously observed the terms of the injunction". If found guilty, a fine would be likely.
David Perry QC, appearing for the attorney general, told the court that the Chandlers were not in a financial position to bring court proceedings and had requested "that the attorney general pursue the matter in the public interest".
Lord Justice Moore-Bick, sitting at London's High Court with Mr Justice Bean on Monday, said: "We are satisfied this is a proper case for the attorney general to be allowed to pursue the matter."
'Not accidental'
After the couple's capture by Somali pirates in October 2009, "the intensive media interest that followed damaged efforts to secure their release", Mr Perry said.
In July 2010, the Chandler family were granted a High Court order preventing reports about the "health and welfare" of the couple until they had reached a place of safety - the definition of which "specifically excluded Somalia".
But following the Chandlers' release on 14 November 2010, Sky reported the story while they were still in the country.
Mr Perry said that the terms of the injunction were "clear and unambiguous" and the breach was "not accidental or unintentional".
Sky News says it "followed the spirit, if not the letter" of the court order.
The Chandlers, who were based in Tunbridge Wells at the time of their kidnap, now live in Devon.
The Attorney General, Dominic Grieve QC, has already brought several contempt cases against the media this year, including that in respect of coverage of the arrest of Christopher Jefferies, the landlord of the murdered landscape architect Jo Yeates.
The Daily Mirror was fined £50,000 and the Sun £18,000 for their coverage of Mr Jefferies' arrest. He was later cleared of any involvement in the murder of Miss Yeates.