Building trust in building statistics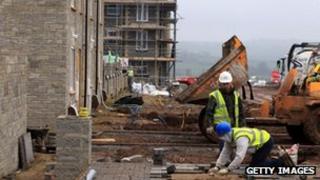 On Monday, the prime minister donned builders' boots to promote his government's "unashamedly ambitious" strategy for providing England with hundreds of thousands of affordable homes. On Tuesday, his government quietly published statistics on how many affordable homes were actually started in the six months since April.
The figure was 454.
Now, I know there has been change to the schemes which are supposed to help deliver these things - the National Affordable Housing Programme has become the Affordable Homes Programme (new stationery will be required), and that has affected the counting of housing starts.
But even taking that into consideration, the figures make deeply depressing reading. And some may speculate whether the publication of the long-awaited housing strategy one day ahead of their release is simply coincidence.
I am told that the Department for Communities (DCLG) has been trying to get the housing strategy "out the door for weeks", with much to and fro with No 10 as to when the document should be unveiled.
Ministers were well aware that the latest official statistics on England's house-building were due for release yesterday morning and their contents but, rather than contrive to coincide with the most recent data, the prime minister and his deputy invited the cameras to watch them plod through the mud of a housing development precisely 24 hours earlier.
Housing matters hugely to people and yet the subject does not have the political bite to keep it at the top of the news agenda. The launch of England's housing strategy was a rare opportunity to consider the state of the crisis and the political solutions on offer.
When the Homes and Community Agency published their figures the very next day, ministers could have expected there would have been little media appetite to return to the topic. In that sense, a cynic might think it was a "good day to bury bad news".
The DCLG denies there was any plot to hide or cover up the latest housing figures, but they are under a duty to ensure they do nothing that might compromise public confidence in official data.
The Code of Practice for Official Statistics says ministers must "ensure that no statement or comment - based on prior knowledge - is issued to the press or published ahead of the publication of the statistics" and reminds them of their duty "to promote trust and maximise public value" of official data.
There is no evidence of a deliberate attempt to bury the grim home-building figures, but it is a shame that Parliamentary debate of the housing strategy on Monday was denied the most recent information and that the sequence of events risks further damaging trust in the way politicians treat our national statistics.