Litvinenko's widow appeals to husband killing suspect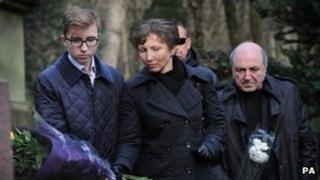 The widow of Russian ex-spy Alexander Litvinenko has urged the chief suspect in his killing to "show some courage" and attend his inquest.
Speaking five years since his death, Marina Litvinenko said although her "patience had run out", she believed the inquest would "bring the truth".
Mr Litvinenko died from apparent radioactive polonium-210 poisoning.
Russia has refused to extradite the man named by the UK as the chief suspect, Andrei Lugovoi, who denies the claims.
The ex-KGB and Russian government bodyguard has said he is willing to speak to the inquest by video link but not to be questioned, according to the Russian news agency Interfax.
Mrs Litvinenko made the comments as she attended a private ceremony by her husband's grave in Highgate cemetery, north London, to mark five years since his death.
The 49-year-old spoke of her ongoing heartache and said she was confident the inquest would cement claims of Russian state involvement in the former KGB agent's death.
A fleet of black limousines arrived at the ceremony as around 10 close family friends, including her 16-year-old son Anatoly and Boris Berezovsky - the Russian oligarch at the centre of a multi-billion dollar legal battle with Chelsea football club owner Roman Abramovich - paid tributes and delivered short speeches in Russian and English.
Flowers were also placed near a gravestone recently erected in his memory.
She said: "The last five years have been incredibly hard but I now believe we are getting close to the truth."
Mrs Litvinenko also urged another former KGB agent, Dmitry Kovtun, to face the coroner's questions.
In 2009, German prosecutors dropped a case against him after he was suspected of leaving a trace of polonium in a Hamburg apartment.
Mr Kovtun has denied any involvement in Mr Litvinenko's death.
'Protect Soviet Union'
Mr Litvinenko, 43, fell ill shortly after drinking tea during a meeting at a West End hotel with Mr Lugovoi and Mr Kovtun.
Three weeks later, on 23 November 2006, he died of radioactive polonium-210 poisoning in London's University College Hospital.
Mrs Litvinenko asked why the Russian authorities had not provided evidence that they were not involved in her huband's death.
She said: "If it's not their polonium, why are they not showing us?"
The UK's relations with Russia soured after the murder of Mr Litvinenko, who had accused Russian security services of carrying out terror attacks to help bring Vladimir Putin to power.
Russian president Dmitry Medvedev insisted during Prime Minister David Cameron's visit to Moscow in September that Mr Lugovoi - now a Russian MP - would never be extradited to Britain.
Mrs Litvinenko said she appreciated the impact her husband's death had had on British-Russian relations.
"Of course you can understand the difficulties," she said. "I never want to be the reason that these countries can't get a good relationship.
"But from another side I believe this is a very serious case because this happened on British soil.
"When we do eventually get the truth of what happened in London five years ago, it will actually help relations."
St Pancras coroner Andrew Reid indicated last month that the inquest should be wide-ranging and announced he was asking the Metropolitan Police and intelligence agencies MI5 and MI6 to make further enquiries.
Representing Mr Litvinenko's family, Ben Emmerson QC told a pre-inquest review that the case gave rise to the "grave suspicion" that his death was the result of state-directed execution by Russia.