Newspaper review: Public sector strikes dominate papers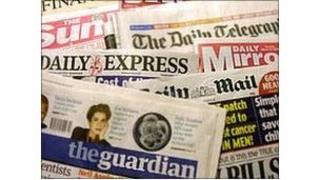 Next week's national public sector strikes over planned changes to pensions preoccupy Friday's newspapers.
The Independent says it is the wrong time for mass action, while the Times says, although it is understandable, industrial action will be disruptive and must be resisted.
"Revenge of the middle managers" is the headline in the Guardian, which says border officials are refusing to cover passport checks during Wednesday's strike.
The Daily Mail says the fact that millions of employees are going on strike, despite fewer than a third of union members bothering to vote, reveals "ministerial weakness" when faced with what it calls "strike bullies".
Nest egg
The Daily Telegraph reports that six million over-50s plan to work past the state retirement age because they cannot afford to give up their jobs.
The paper says those planning to work past retirement are expected to do so for an average of six years, although some aimed to work for an extra 15 years.
The Daily Express advises that putting aside £50 a month in an appropriate financial plan makes a major difference to the quality of later life.
'Restore elitism'
The Mail says the education secretary is to restore "elitism" to schools.
The paper says he has vowed to give children the same opportunities as those enjoyed by grammar school pupils.
The Guardian reports that "clear patterns" are emerging from the Leveson Inquiry into press standards.
It says the future of the regulator, the Press Complaints Commission, has been repeatedly called into question.
Cup 'shambles'
"Go now" is the the Mail's headline accompanying a photograph of England's director of elite rugby, Rob Andrew.
The paper says "the shambles" of England's World Cup campaign and the later damaging revelations means he should quit, a call the Times echoes.
The Independent covers "the curious case of the exploding parking meters".
It says a reward of £1,250 is on offer after 14 car parking machines in the Sussex town of Lewes were destroyed.
'Breathless' Monroe
Forty years on from Marilyn Monroe's rendition of "happy birthday Mr President" for John F Kennedy, the Mail says she may not have intended it to sound so sultry.
Fellow actress Joan Copeland, who was there on the night, says Monroe got lost travelling to Madison Square Garden and arrived "out of breath and anxious".