Ed Miliband refuses to condemn public sector strikers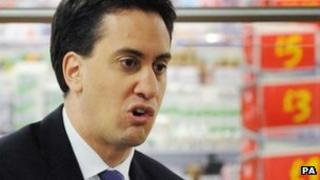 Labour leader Ed Miliband says he will not condemn public sector workers striking over pensions, as thousands prepare to walk out on Wednesday.
The government has accused union leaders of wanting to "wreck" economic recovery and cause public misery.
Mr Miliband told ITV Daybreak he hated the "terrible" disruption the strike would cause, but would not condemn it.
Meanwhile, Heathrow operator BAA has said disruption at the airport will not be as serious as previously thought.
Heathrow operator BAA had warned of possible "gridlock" and 12-hour delays for passengers at immigration as border staff take part in the walk-out.
However, on Tuesday it said the contingency plans it had adopted would mean that delays "could be contained to within two to three hours".
Mr Miliband said planned pension changes were "a 3% tax rise on some of the lowest-paid workers in the country" and unfair.
He told Daybreak he had spoken to a head teacher who said that he and his colleagues felt they had been put in an "impossible position" because the government had stopped negotiating.
"They are imposing - and I don't think most people recognise this yet - a 3% tax rise on some of the lowest-paid workers in the country, not actually to help them with their pension but to help pay off the deficit," he said.
"Of course we have to pay off the deficit but to target public sector workers in the way that they have been doing is not fair. So the disruption is terrible but I am not going to condemn those who have taken this decision."
'Generous offer'
Up to two million public sector workers could go on strike on Wednesday, with more than 1,000 demonstrations expected across the UK. Some schools will be shut, flights delayed and council services hit.
The unions object to government plans to make their members pay more and work longer to earn their pensions.
But Deputy Prime Minister Nick Clegg accused unions of misleading their members.
He told the BBC: "I'm quite worried about the information that some teachers and nurses and others are getting from their trade unions, because it doesn't seem to me to be an accurate reflection of what we're actually offering as a government.
"We've put all the information on the government website, and it's a generous offer."
Education Secretary Michael Gove said on Monday that the action would close nine out of 10 schools in England.
Mr Gove said of union leaders: "They want scenes of industrial strife on our TV screens. They want to make economic recovery harder - they want to provide a platform for confrontation just when we all need to pull together."
Prime Minister David Cameron has said union leaders were behaving "irresponsibly," saying the strike would damage the economy.
Contingency plans
BAA said UK Border Agency (UKBA) efforts to source extra staff and an undertaking by airlines to reduce arriving passenger numbers had left it "in a better place to avoid serious delays and widespread disruption".
"At this stage, we believe that immigration queues for non-EU passengers could be contained to within two to three hours," it said in a statement.
However, it said the situation remained "serious" because inexperienced UKBA staff on duty may take longer to process arriving passengers and high winds are forecast which could disrupt flights.
BAA added that it was drafting in 400 BAA office-based staff to support staff and passengers at Heathrow.
The statement added: "We have put in place a contingency plan to divert aircraft from Heathrow in the event that actual or anticipated terminal congestion puts passenger safety at risk."
The government has said no border controls will be relaxed to ease queues.
Hospital managers are planning to postpone thousands of non-emergency operations because of the strike.
Patients needing urgent treatment such as chemotherapy and kidney dialysis will still be able to get it, and maternity units will remain open.
Calls to 999 will still be answered, but patients are being urged to think hard and call only if it is a genuine emergency.
Council offices, libraries, council-run community centres, museums, leisure centres and job centres may be closed, and refuse collections and driving tests could also be affected.