Police public disorder training 'insufficient'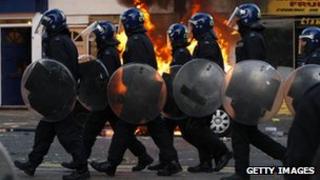 Training of police to deal with fast-moving public disorder is "insufficient", the chief inspector of constabulary has told MPs.
Sir Denis O'Connor said current training was too focused on "set-piece events" and that officers were trained to "stand, hold and protect".
He told the Home Affairs Committee it was time to "re-think tactics, training and our approach to intelligence".
The inspectorate's report on riot training and tactics is due next month.
The committee is hearing evidence from individuals associated with a report into August's riots released on Monday.
The Riots, Communities and Victims Panel found that a lack of confidence in the Metropolitan Police's response to the initial riots in London led to further disturbances across England. It found the police response had "encouraged people to test reactions in other areas".
The Metropolitan Police said it was doing all it could to learn lessons from August's events.
The review by the Inspectorate of Constabulary - which independently assesses police forces and policing activity - into public order policing is expected to form a key part of the response to the riots.
'Being outmanoeuvred'
Sir Denis told MPs that police now faced situations where social media was being used to outmanoeuvre them.
"The key issue has been that they (police) are actually trained by and large to stand, hold and protect, a great deal of training is around set-piece events, but what we have seen over the last year or so is the ability of people to use social media and other mechanisms to organise themselves and outmanoeuvre," he said.
"All of that points me towards devolved command in order to make an immediate assessment and then have done enough in advance, so that you have more than one game to play, as it were, in order to protect the public.
"Our analysis suggests that police training at the minute is insufficient for that - people do not get an opportunity to look at a number of scenarios when people actually don't retreat from a junction and happily go away from you, when they scatter and reappear somewhere else."
However, Sir Denis rejected suggestions of blocking social networks during public disorder. "Personally, I think trying to ban these things looks to me a little bit like standing on the shore when the tide is coming in," he added.
'Mobilise early'
Sir Denis, whose remit extends to police forces in England and Wales, said the number of officers deployed during disturbances was not the key issue.
He said the "fundamental point" was that police needed to "mobilise early" during such incidents.
Riots broke out in Tottenham, north London, on 6 August, two days after the fatal shooting by police of 29-year-old Mark Duggan. Unrest spread across London and to other cities, including Manchester, Birmingham and Bristol over the following days.
Home Secretary Theresa May wrote to Sir Denis in August to ask for clearer information to be provided to police forces in England and Wales about the size of deployments, tactics, when it is appropriate for other police forces to provide help and "an appropriate arrests policy".
Among those giving evidence on Tuesday were panel chairman Darra Singh, panel member Heather Rabbatts and Louise Casey, head of the troubled families team at the Department for Communities and Local Government, who was appointed by the prime minister following the riots to help the 120,000 most troubled families in the UK.