Royal Navy arrests suspected pirates off Somali coast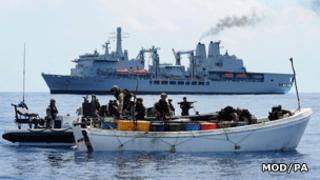 The Royal Navy has arrested seven suspected pirates after helping a Spanish fishing vessel in the Indian Ocean, the Ministry of Defence says.
It said the Royal Auxiliary Fleet Ship Fort Victoria, carrying Royal Marines, performed the rescue on 28 November, between Somalia and the Seychelles.
Fort Victoria's navy helicopter fired shots at two suspected pirate vessels, which were then searched by marines.
The ship then sailed to the Seychelles, where the suspects will stand trial.
The Ministry of Defence (MoD) said the incident took place about 420 nautical miles from the Seychelles and 350 nautical miles from the coast of Somalia. Fort Victoria had been on patrol as part of Nato's Combined Task Force 508.
In a statement, the MoD said the vessel had received information that pirate vessels had attacked a Spanish fishing boat north of their location and launched its Lynx helicopter to investigate.
It said the helicopter identified a whaler and a skiff near the fishing vessel as suspect vessels and fired shots when the skiff sped away, ignoring an order to stop.
It subsequently stopped and the suspects onboard were taken to Fort Victoria. Marines then boarded the whaler and another skiff. No-one was injured in the operation.
Captain Gerry Northwood of the Royal Navy, on Fort Victoria, said: "The Royal Navy has once again demonstrated that multinational co-ordination can be successfully deployed to disrupt piracy in this area in order to protect international merchant shipping."
Flight Commander Lieutenant Alastair Thompson said the suspects would be tried in the Seychelles under a memorandum of understanding signed with the UK in 2009.
RFA Fort Victoria is one of the Royal Navy's stores ships, which are designed to carry ammunition, food and explosives to replenish naval ships at sea. She is an auxiliary oiler replenishment (AOR) ship.
Prime Minister David Cameron announced in October that ships sailing under a British flag would be able to carry armed guards to protect them from pirates.
Mr Cameron said he wanted to combat the risks to shipping off the coast of Somalia, where 49 of the world's 53 hijackings last year took place.
Under the plans, the home secretary would be given the power to license armed guards for ships.