'Christmas plot': Nine suspects deny charges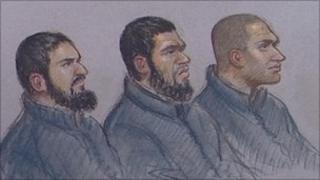 Nine men charged with conspiracy to bomb high-profile London targets in the run-up to Christmas 2010 have pleaded not guilty.
The alleged targets were the Stock Exchange, the Houses of Parliament and the US embassy in London.
Five of the men deny being in possession of documents for the preparation of acts of terrorism.
The men are aged between 20 and 29 and three are from Cardiff, two from London and four from Stoke-on-Trent.
They were arrested during raids in Birmingham, London, Cardiff and Stoke in December 2010.
On Friday they appeared at Woolwich Crown Court in London and pleaded not guilty to conspiring to cause explosions likely to endanger life or damage property between 1 November and 21 December 2010.
The defendants are: Gurukanth Desai, 29, from Cardiff; Omar Sharif Latif, 27, from Cardiff; and Abdul Malik Miah, 25, from Cardiff; Mohammed Moksudur Chowdhury, 21, from Tower Hamlets, east London; Shah Mohammed Lutfar Rahman, 29, from Newham, east London; Nazam Hussain, 26, from Stoke-on-Trent; Usman Khan, 20, from Stoke-on-Trent; Mohibur Rahman, 27, from Stoke-on-Trent; and Abdul Mohammed Shahjahan, 27, from Stoke-on-Trent.
Mr Chowdhury, Mohibur Rahman, Mr Miah and Shah Rahman are each accused of being in possession of two editions of the al-Qaeda magazine Inspire and a document entitled "39 ways to serve and participate in jihad".
It is alleged Mr Latif was in possession of the same document and Mr Desai had the spring and summer editions of the magazine on 20 December last year.
They are due to go on trial on 23 January.