Archbishop: Rescue young or face further riots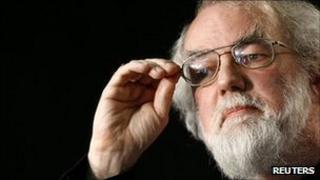 England risks fresh rioting unless more is done to rescue young people who think they have nothing to lose, the Archbishop of Canterbury has said.
Dr Rowan Williams urged ministers and society to reach out to alienated youths to avoid more "futile anarchy".
In a Guardian article, the head of the Church of England linked this summer's unrest to huge "economic hopelessness".
It came after a study found 85% out of 270 rioters cited anger at police practices as a key factor behind them.
That was second only to poverty, which saw 86% of rioters class it as one of the main causes in the poll by the London School of Economics and Guardian.
The Archbishop said: "It isn't surprising if we see volatile, chaotic and rootless young people letting off their frustration in the kind of destructive frenzy we witnessed in August.
'Unavoidable austerity'
"Too many of these young people assume they are not going to have any ordinary, human, respectful relationship with adults - especially those in authority, the police above all.
"Too many of them inhabit a world in which the obsession with "good" clothes and accessories... creates a feverish atmosphere where status falls and rises as suddenly and destructively as a currency market."
He questioned whether we have enough energy to "invest what's needed in family and neighbourhood and school to rescue those who think they have nothing to lose".
He warned of "unavoidable austerity ahead" and said cutting youth services should be "manifestly indefensible".
In a separate article, the Archbishop said Jesus would have asked "awkward" questions of those involved in the St Paul's Cathedral protest, including campaigners, bankers and clergy.
Writing in the Christmas issue of the Radio Times, Dr Williams said one of the slogans on the banners in the protest had been "What would Jesus do?"
He said Jesus would be "steadily changing the entire atmosphere".
But he warned against using the expression as a "nice short cut".
Members of the Occupy London Stock Exchange (OLSX) group have been outside the cathedral since 15 October and are protesting against cuts, saying ordinary people should not pay for the financial crisis.
In the Radio Times, Dr Williams said Jesus was not just a model of perfect behaviour and was "constantly asking awkward questions" in the Bible.
Referring to the protest at St Paul's, he said: "What Would Jesus Do? He'd first of all be there: sharing the risks, not just taking sides but steadily changing the entire atmosphere by the questions he asks of everybody involved, rich and poor, capitalist and protester and cleric.
Eviction hearing
"Christmas doesn't commemorate the birth of a super-good person who shows us how to get it right every time, but the arrival in the world of someone who tells us that everything could be different."
Using an example from the Bible, he said: "Faced with what looks like a simple challenge about whether you pay taxes to the Roman Emperor or not, he famously shrugs it off, saying, "Give Caesar what belongs to Caesar and give God what belongs to God."
"In other words: don't just imitate me - think. What's the exact point at which paying taxes to the Empire gets in the way of serving God?
"What's the exact point at which involvement in the "empire" of capitalist economy compromises you fatally? It may not be easy to answer this straight away, so don't expect to become a hero of conscience overnight."