Afghanistan pledged 10 years of UK financial aid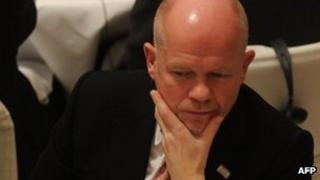 Afghanistan will receive economic support from the UK for a decade after the withdrawal of its troops, Foreign Secretary William Hague has said.
The pledge came at the end of a one-day global conference in the German city of Bonn on Afghanistan's future.
Mr Hague said Britain would continue to support Afghanistan "long after" 2014, when UK forces will be withdrawn.
Afghanistan has pledged to step up its fight against corruption in return for international support.
"We will not abandon Afghanistan: the sacrifices made over the last 10 years have not been made in vain," Mr Hague said.
"[This] conference has sent a clear signal that Afghanistan's friends will continue to support her long after international combat troops have left the country.
"We have committed ourselves to provide economic support to Afghanistan for the decade after 2014, until Afghanistan becomes economically self-sustainable."
The closing communique from the conference said "substantial progress" had been made since the last conference 10 years ago, weeks after the Taliban was toppled.
It said that the international community was ready to stand by Afghanistan in the 10 years after Nato's withdrawl - in exchange for good governance.
However, the communique added that "shortcomings must be addressed" with the goal of creating a peaceful Afghanistan "in which international terrorism does not again find sanctuary and that can assume its rightful place among sovereign nations".
Key player Pakistan has boycotted the talks, after a Nato attack on a border checkpoint last month that killed 24 of its soldiers.
'Irreversible' progress
Afghan president Hamid Karzai is to visit Britain this week to sign a long-term partnership agreement between the UK and Afghanistan.
He said that foreign nations' continued "commitment and support" would be vital to "consolidate our gains" after a decade of fighting the Taliban already in Afghanistan.
"We will need your steadfast support for at least another decade," Mr Karzai told the conference.
Earlier, Mr Karzai hailed the progress his country had made but warned that such gains were by no means secure.
"The people of Afghanistan are looking to this conference for clear affirmation of commitment to make security transition and economic progress irreversible," he said.
About 1,000 delegates from 100 countries and international organisations took part in Monday's gathering.