Phone hacking: Andy Coulson sues News Group Newspapers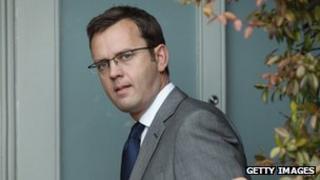 Former News of the World editor Andy Coulson is suing his ex-employer over its refusal to pay the legal fees he's incurred in the phone-hacking scandal.
David Cameron's former press secretary argues that News Group Newspapers (NGN) is liable under the terms of the deal he agreed when he resigned as editor in 2007.
Mr Coulson, 43, denies any wrongdoing.
NGN says the arrangement did not cover criminal allegations.
Counsel for Mr Coulson, James Laddie, told the High Court in London that the severance agreement stated: "To the extent that it is lawfully able to do so, the employer will pay any reasonable professional (including, without limitation, legal and accounting) costs and expenses properly incurred by the employee after the termination date which arise from his having to defend, or appear in, any administrative, regulatory, judicial or quasi-judicial proceedings as a result of his having been editor of the News of the World."
He asked for a declaration that NGN "must pay the professional costs and expenses properly incurred" by Mr Coulson "in defending allegations of criminal conduct" during his editorship.
'Not entirely hypothetical'
Mr Coulson was arrested in July over the phone-hacking allegations and released on bail.
He resigned as Mr Cameron's director of communications in January, saying that coverage of the scandal was making it too difficult for him to do his job.
Mr Laddie told Mr Justice Supperstone: "I should make it clear at this stage that the claimant denies any allegations of wrongdoing."
He said that broad position of the News International subsidiary NGN was that, whatever the clause meant, it did not cover criminal allegations.
But he argued it was in NGN and Mr Coulson's joint interest to take steps to protect the former editor from allegations of wrongdoing while he was in charge at the News of the World, and to advance his defence against such claims.
Mr Laddie said this was not least because NGN would also be liable and might bear corporate criminal liability for any allegations made against its senior directors.
Such allegations were "not entirely hypothetical" when the agreement was entered into in early 2007, he said, as the convictions of reporter Clive Goodman and investigator Glenn Mulcaire could not eliminate the possibility that further proceedings might ensue in relation to activities at the News of the World.
'Criminal allegations'
Christopher Jeans QC, for NGN, said that the clause covered the "occupational hazards of being an editor" and not alleged criminal activity.
He told the court: "If we are wrong on that, we submit that the clause only operates in relation to proceedings and here there are none - no charge, no hearings.
"Also, there is no obligation to pay before the proceedings are over - and manifestly they are not."
He added that there would also be no obligation to pay in the event of a criminal conviction because of the legal principle that no cause of action may be founded upon an illegal act.
"If it had been intended that NGN would pay all the legal costs connected with Mr Coulson's period of office, that would have been easy - a clause could simply have stated that NGN will pay any costs Mr Coulson incurs in relation to any legal investigations or hearings in any way connected with his period as editor.
"Instead, the clause is thick with qualifications," he said.
"The overall intention is clear. Reading the clause as a whole, it is intended to cover against the occupational hazards of being an editor.
"It plainly does not cover criminal allegations directed against the editor personally."
The judge reserved his decision to a later date.