Navy shell fired in Libya lands in Downing Street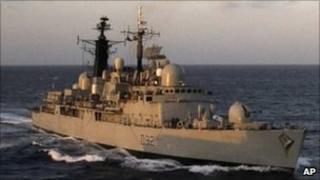 The prime minister is to use a shell casing fired by the Royal Navy in Libya as his umbrella stand.
The shell was presented to David Cameron by the crew of HMS Liverpool, at a Downing Street reception for 120 servicemen and women to honour the armed forces actions in Libya.
Mr Cameron said the shell casing was now his "proudest possession".
The ship, based in Portsmouth, Hampshire, became the first navy vessel fired on in 30 years off Libya in May.
The casing belonged to one of more than 200 rounds of high-explosive shells fired by the ship during operations in Libya.
Mr Cameron said that he had closely followed the progress of HMS Liverpool during the Libya campaign.
"Well, I've now met the people that were sailing on it," he said.
'Immensely proud'
"We were talking about how HMS Liverpool was getting on, trying to stop Gaddafi in Tripoli - I've now met not only the captain of that ship, but he's very kindly given me my proudest possession: one of the shell casings that was fired in anger that is now going to be an umbrella stand in the Cameron household."
He praised all those who had taken part in the military campaign for showing "incredible courage, professionalism and bravery".
Mr Cameron also stressed the significance of the operation for the people of Libya, helping bring democracy and freedom to the region.
One of HMS Liverpool's crew attending the event, Able Seaman Emma Graham, commented: "To be able to meet the prime minister - and all the other units we had worked with off Libya - was a huge privilege."
The ship's commanding officer, Cdr Colin Williams, said: "I'm immensely proud of my ship's company - as, I am certain, their families are too."