Shortage fuels spiralling Christmas tree prices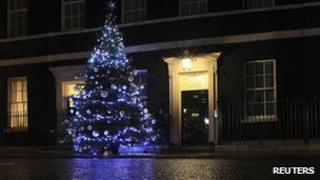 Christmas tree prices have risen again this year after a shortage of trees across Europe.
Wholesalers say that rising demand and a shortfall in the number of trees planted could see most prices rise by 10% or more.
For taller trees, where the shortage is most acute, prices have risen by as much as 36%.
The Nordmann fir, which accounts for 80% of UK Christmas tree sales, has been worst affected.
Professional buyers estimate that over the last five years, the price of these trees has "almost doubled" and some accused retailers of making the situation worse by failing to reduce their margins as prices have increased.
Tall order
In 2009, one London based company said it would deliver a twelve foot (3.6m) Nordmann, the tallest widely available, for £99.99, but this year it is charging as much as £143.99, an increase of 36% after inflation.
Since their arrival in the UK during the 1990s, Nordmann firs have become popular thanks to their non-drop needles which are softer and less messy than more traditional varieties.
Last year, around eight million trees were purchased in the UK, an increase of 2m on 2002 - when taller trees for this year needed to be planted. Buyers estimate that there is currently a shortage of around 50,000 trees, which equates to a shortfall of between 10% and 20% of the taller tree market.
Across Europe, according to the British Christmas Tree Growers Association (BCTGA), over 60m trees are sold every year. But last year there was an estimated shortfall in production by around 5m trees, and growers this year have warned the the situation is more serious still.
Stockeld Farm has around half a million trees growing around North Yorkshire. Their farm manager told the BBC News website: "The market's seeing a serious shortage of anything over six feet in height. The seven and eight foot trees are in particularly short supply.
"We're going through a bad period at the moment, and this year will probably be the biggest shortage we'll see. In terms of pricing, you can still expect retailers to double up, passing on these rises to customers."
He added: "The shortages are largely because the Danes, one of Europe's largest tree growers, switched to other crops to take advantage of EU subsidies. Since then demand has risen and we've not been able to make up the shortfall."
'High demand'
Last year, shops charged between £35 and £40 for smaller five to six foot (1.65-1.8m) trees. But, the BCTGA has warned that most customers this year should expect to pay at least £5 more.
The Garden Centre Group, which operates 130 garden centres across England and Wales, has increased the price of a small trees by 11%, and large trees (6-8ft, 1.8-2.4m) are now 18% more expensive, at £64.99.
Tim Clapp, their head of horticulture, said: "We have definitely seen a shortage of trees available this year; particularly on the larger trees, as eight years ago when these trees were planted there wasn't the demand for these high quality trees that there is today."
Long term increases
Others in the industry highlighted a longer-term rise in prices.
Christopher Hay, managing director of Needlefresh, a co-operative which supplies 500,000 Christmas trees every year, commented: "We've seen around a 5% increase in the wholesale price of most trees this year, but since 2006 the price has almost doubled.
"There is very high demand for Christmas trees across Europe, and at the moment we just can't meet that, pushing prices up."
Sadie Lynes of Jadecliffe Ltd, an independent tree wholesaler, agreed: "Price increases have been crazy in the last few years. We've seen a good 50% increase in them.
"When trees were cheaper, retailers were happy with a smaller profit. Now the wholesale prices have risen, they've not been willing to reduce their margins."